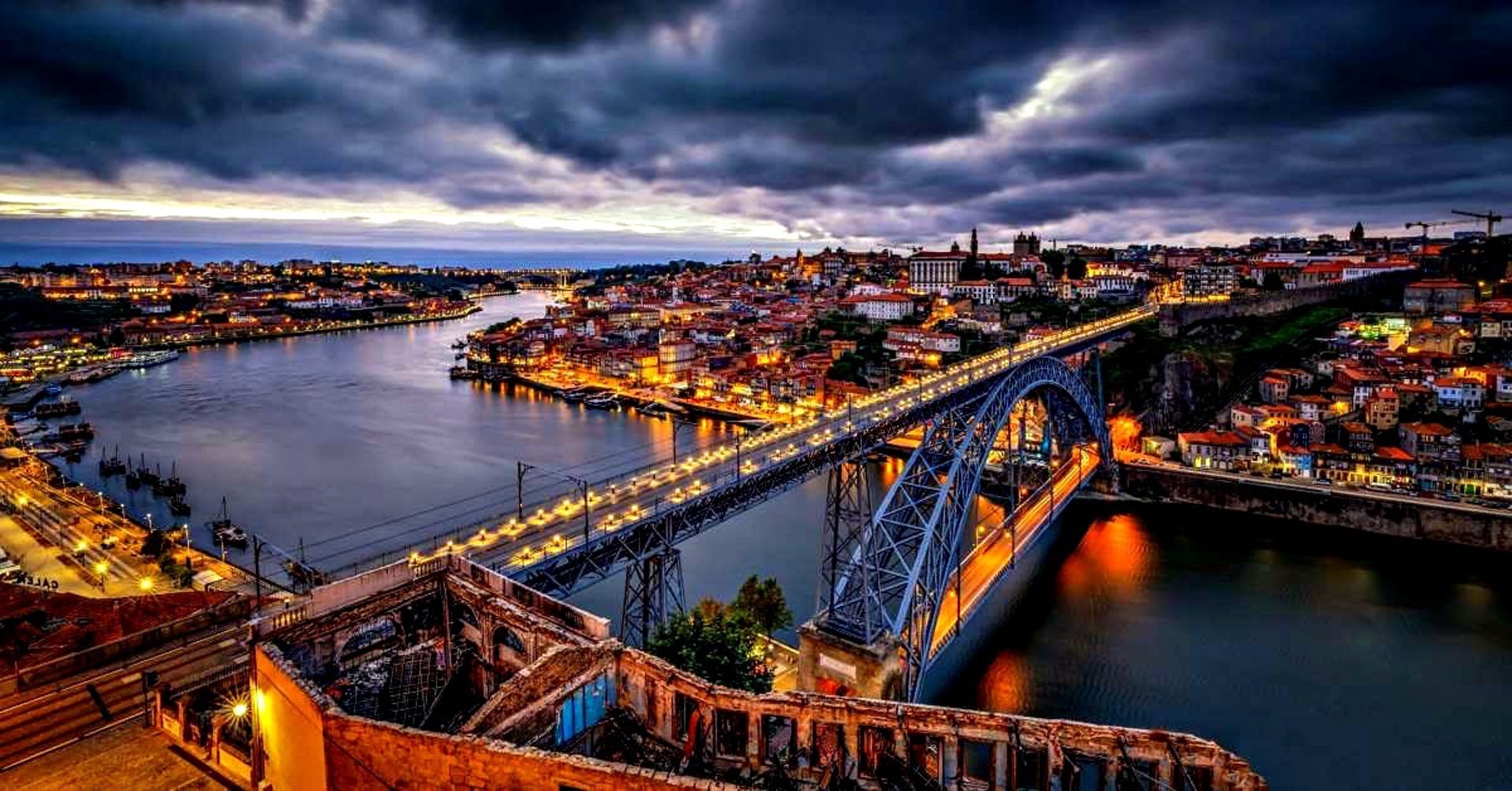 If you're visiting Portugal, then there is a good chance that you're spending time in the city of Porto. Although Porto isn't the largest city in the country, an honor that goes instead to the capital of Lisbon, it is a destination with a rich heritage and a vibrant culture. Full of winding cobblestone streets, a fascinating wine trade and a warm climate, Porto is an appealing getaway spot for everyone. There are all sorts of day trips from Porto, which is perfect for you if you want to explore as much of Portugal as possible on your next vacation.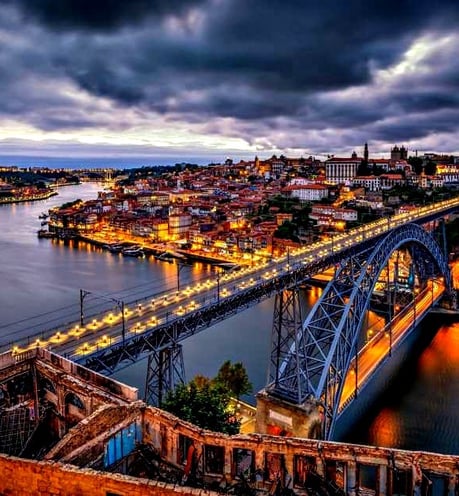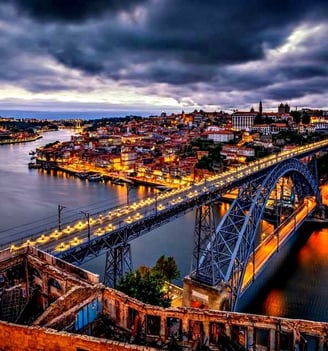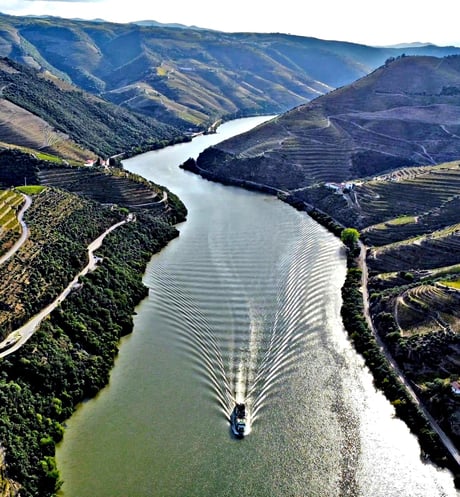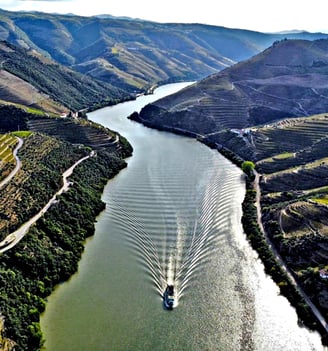 23 Top Attractions & Things to do in Porto
Situated at the point where the Duoro River meets the Atlantic Ocean in Northern Portugal, Porto has been a mercantile city since its earliest days as a Roman outpost. This city perfectly blends old-world charm and modern sophistication with a rich history and stunning architecture that will captivate your senses.
Walking tours offers a great way to explore the city, as most of the major tourist attractions in Porto are located close to each other. As you explore Porto, you'll be captivated by its historic center – a maze of winding medieval streets – colorful buildings, and charming plazas.
Foodies can enjoy a fantastic gastronomic scene encompassing fresh seafood, creamy pastéis de nata (custard tarts), or the hearty francesinha sandwich, a local specialty. Porto's most celebrated contribution to Portuguese culture is port wine, the nation's top export. A list of things to do in Porto typically include trips to the port wine caves located just across the river at Vila Nova de Gaia.
But Porto is more than just its landmarks and food. It's a captivating Portuguese city with a vibrant spirit where locals embrace life with warmth and friendliness. Whether exploring its bustling markets, traditional tascas (taverns), or walking along the river, the city will captivate your heart and ignite your sense of adventure.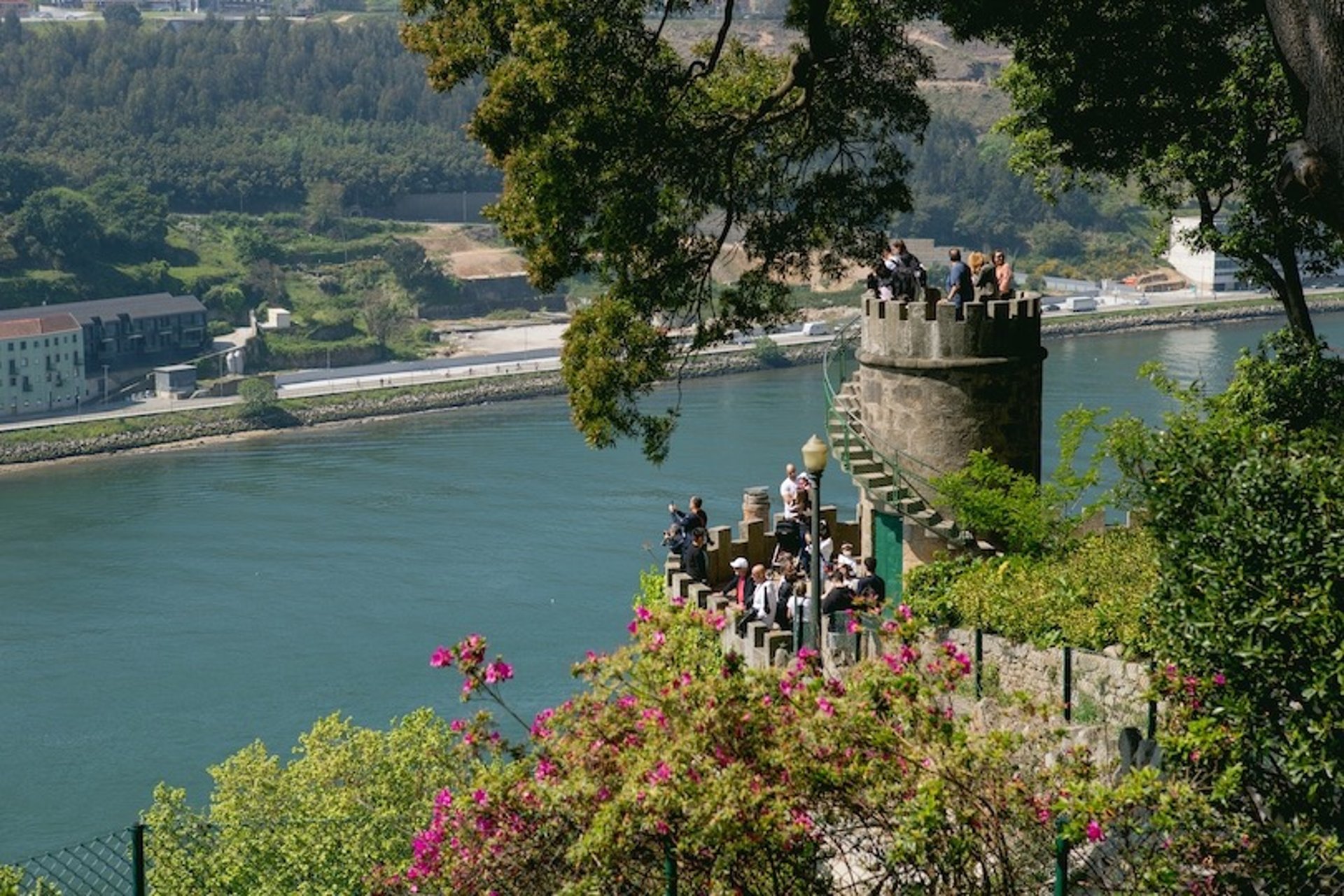 Jardins do Palacio de Cristal
The Crystal Palace Gardens present a stunning panoramic city view on a hill overlooking the Douro River.
Initially designed during the 19th century, the gardens feature lush green lawns, colorful flower beds, and winding paths that lead to quaint fountains, statues, and ornamental gardens.
The gardens' main attraction is the impressive Crystal Palace, a magnificent iron and glass structure inspired by London's Crystal Palace, which serves as its centerpiece. Even though the original palace no longer stands, the gardens maintain their delightful charm, creating an ideal setting for gentle strolls, picnics and relaxing in nature.
The gardens host various cultural events throughout the year, including art exhibitions, concerts, and festivals, adding a refined touch to its delightful ambiance.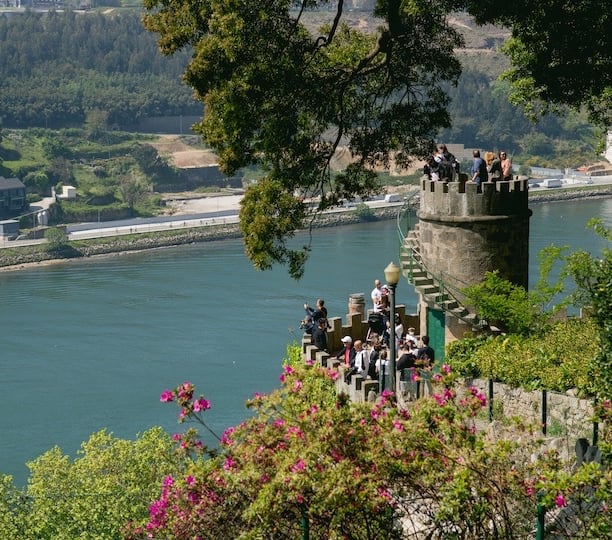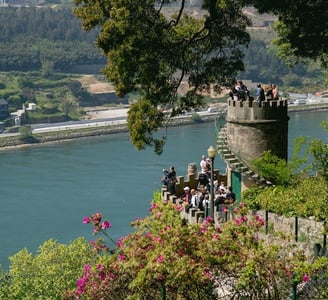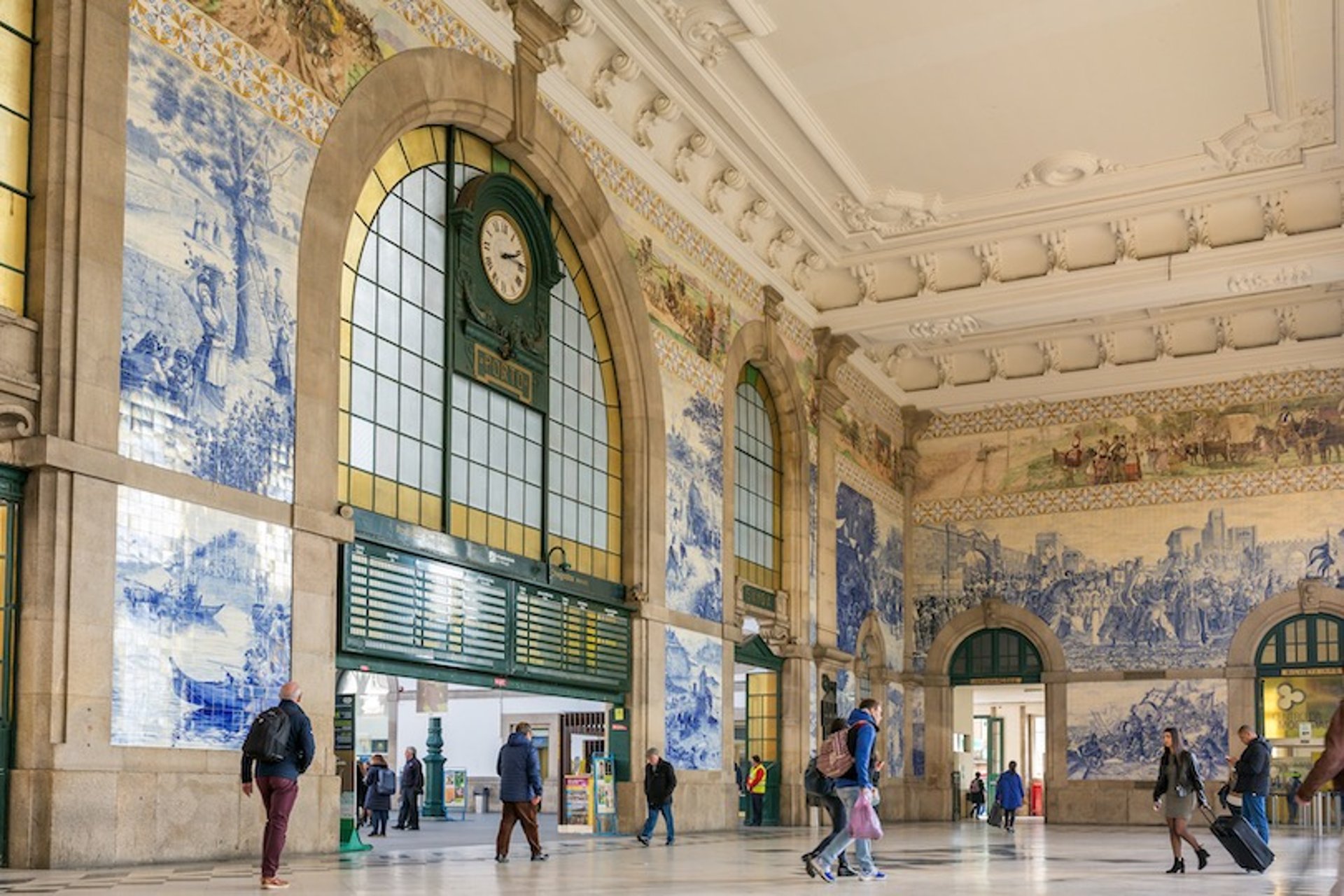 Sao Bento Railway Station
São Bento Railway Station is a beautiful and functional architectural masterpiece that combines history and art. It is located in the heart of the city and is known for its stunning azulejo tilework that covers the walls and tells stories of Portugal's rich past.
The grand entrance hall of the station is breathtaking, with intricate blue and white tile panels that depict scenes from Portuguese life, battles, and transportation. These hand-painted tiles from the early 20th century create a captivating visual narrative that takes visitors back in time.
Aside from its artistic appeal, São Bento Railway Station is a busy transportation hub that connects Porto to various destinations across the country. Visitors can watch trains arrive and depart against the backdrop of the station's magnificent interior.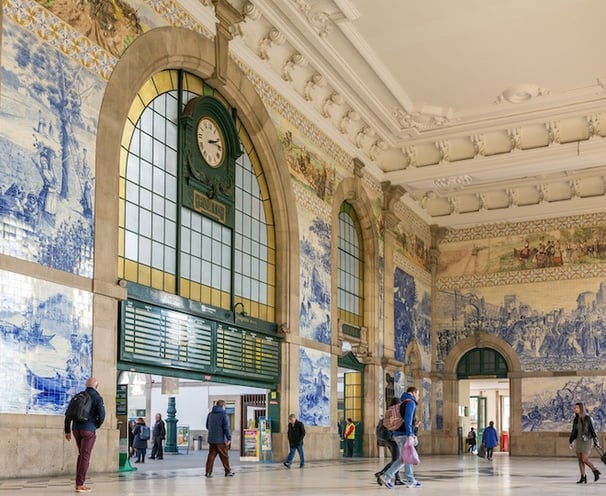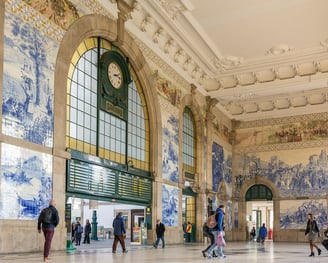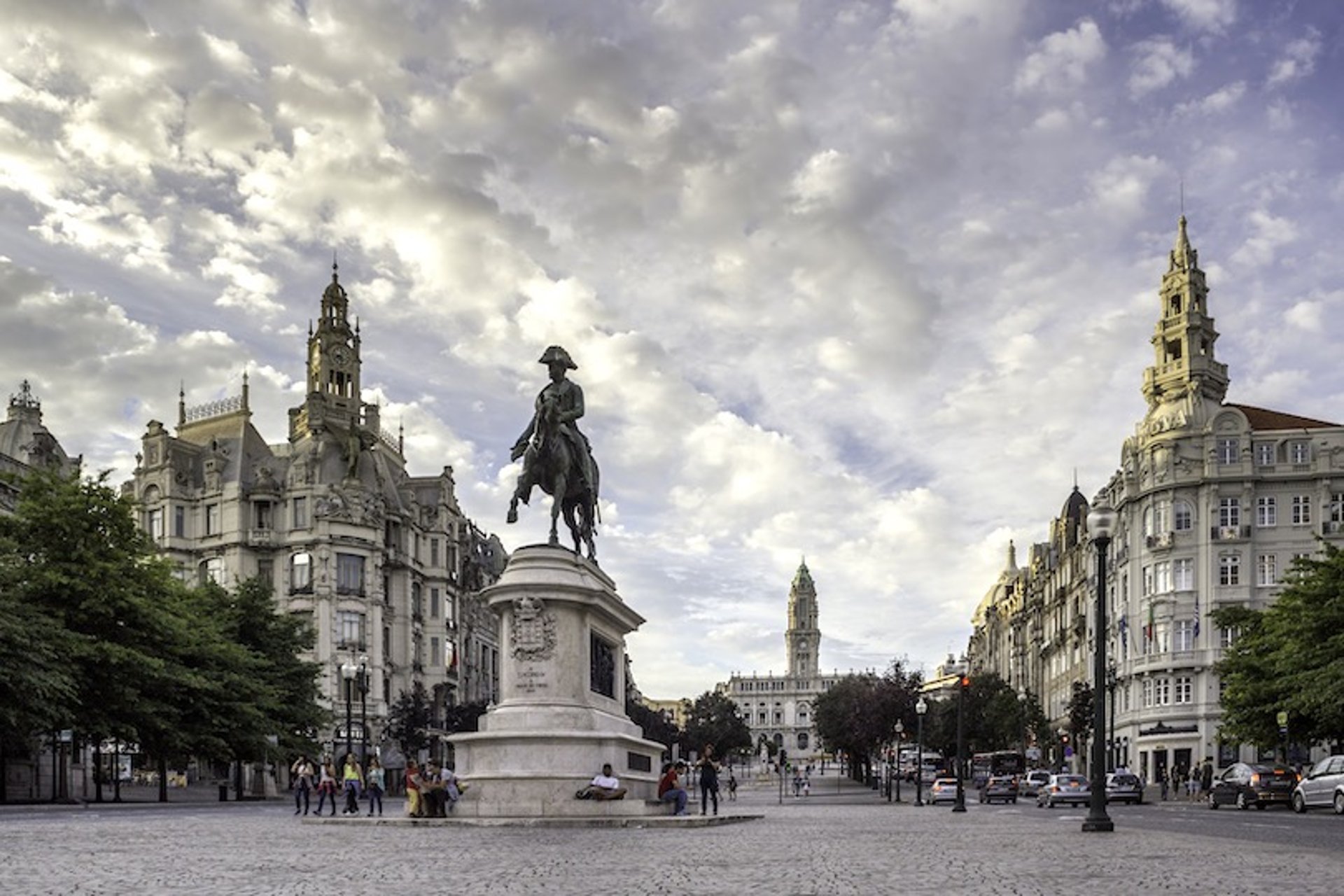 Praça da Liberdade, or Liberdade Square in English, is a lively and historic public square.
Surrounded by beautiful buildings, many of which showcase stunning architecture and intricate designs, a monument dedicated to King Pedro IV stands in the center of the square.
Depicting a significant figure in the history of Portugal, the monument is decorated with statues and a towering column, adding a sense of regality to the square.
Liberdade Square is significant to the city's history, representing its journey towards freedom and independence. It is a gateway to Porto's rich cultural heritage and a meeting place where past and present intersect.
Today the square is a popular spot for people-watching, socializing, and outdoor events. Several cafés, restaurants, and shops also surround it.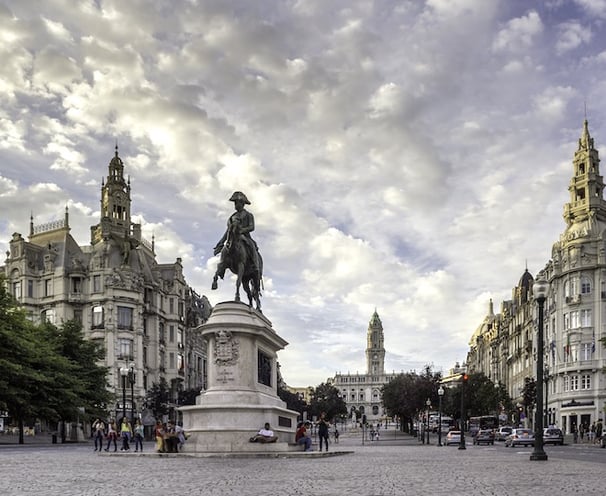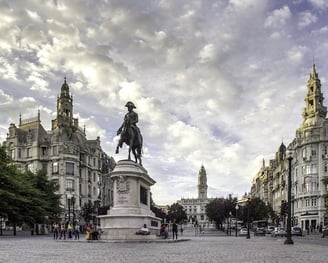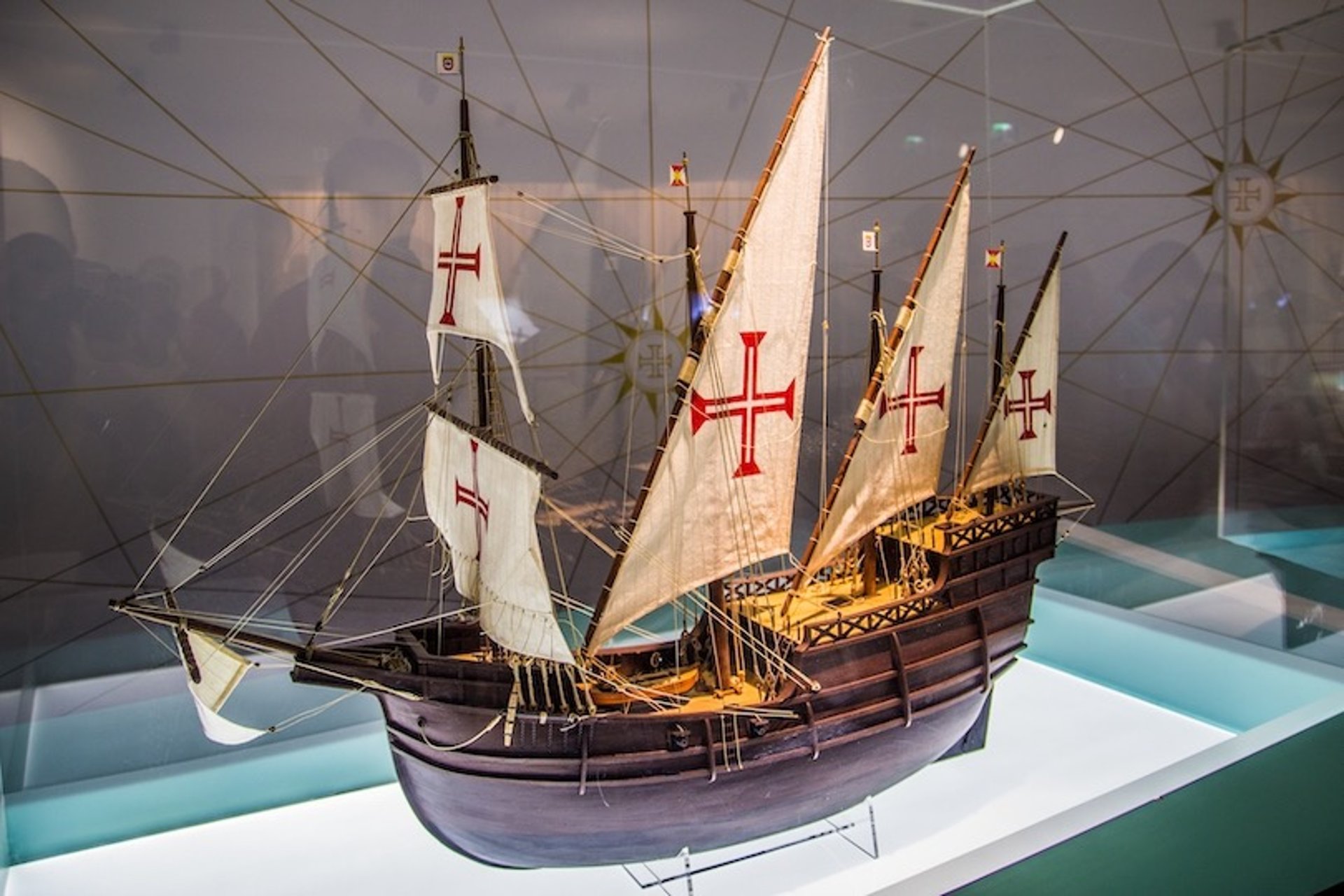 Portugal enjoys a rich maritime history, which you can learn more about at the World of Discoveries Museum.
Located along the Douro River, this interactive museum offers visitors a unique opportunity to experience the Age of Discoveries through life-sized replicas, multimedia exhibits, and interactive displays.
Step back in time and set sail on a Portuguese caravel while exploring distant lands and learning about the cultures encountered. The museum provides a comprehensive look into the voyages of iconic figures such as Prince Henry the Navigator, Vasco da Gama, and Ferdinand Magellan. At the same time, it showcases navigational techniques, trade routes, and technological advancements of the era.
Providing an engaging and hands-on experience for visitors, you can try steering a ship, learn how to tie maritime knots and sample exotic spices at a recreated market.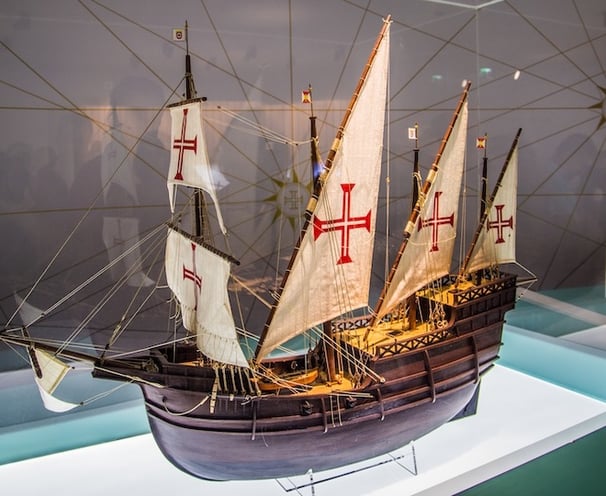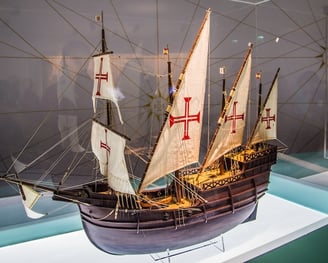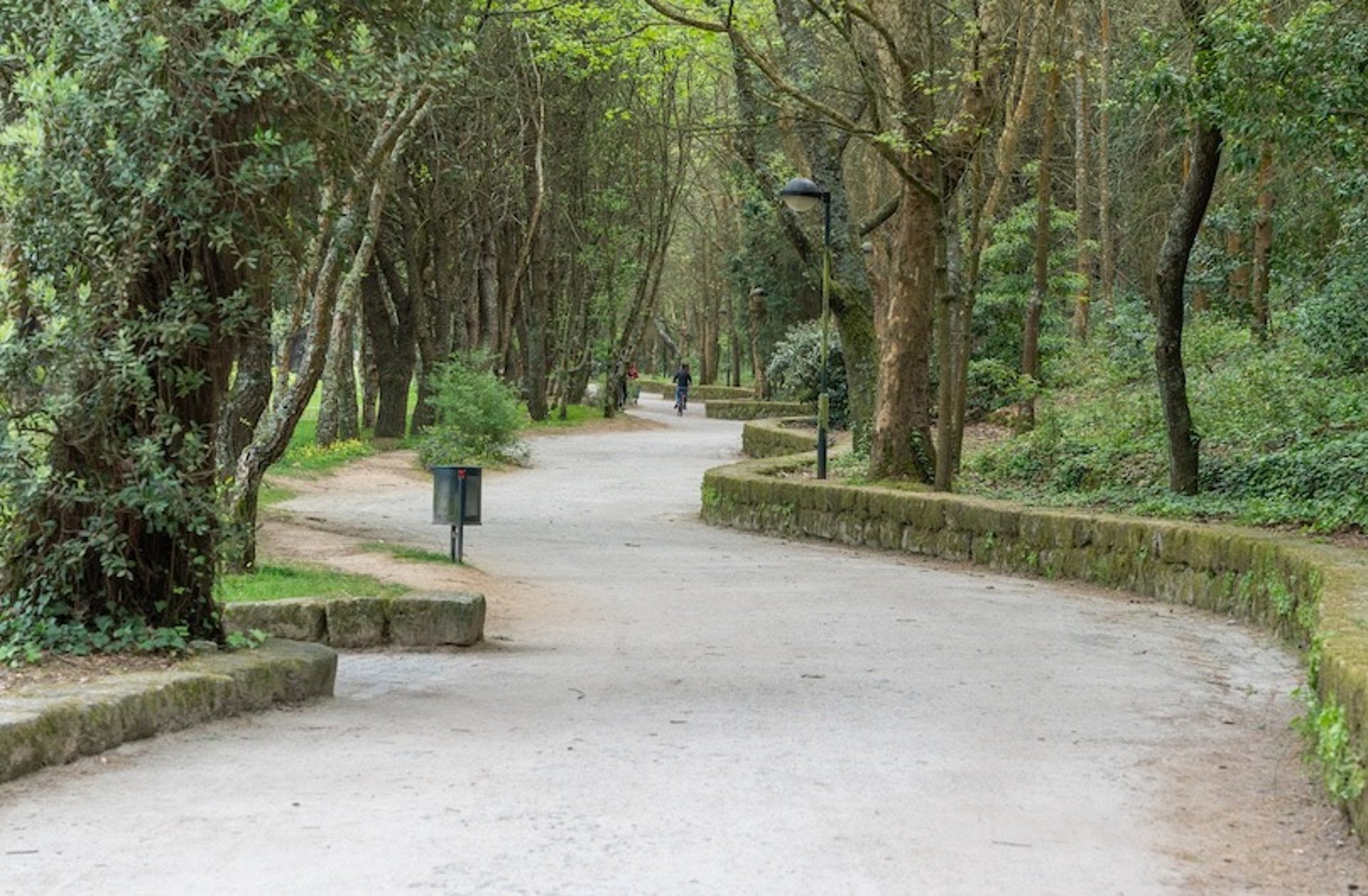 Parque da Cidade, better known as City Park, is a large green oasis within the city.
It features lush lawns, shady groves, and winding pathways ideal for leisurely walks or bike rides. Its stunning ocean views also provide a serene backdrop, perfect for picnics or relaxing amidst the natural beauty.
While exploring the park, visitors should watch for the unique sculpture called 'She Changes'. It's a striking installation that reflects the changing tides and captures the essence of the park's coastal location.
The park also accommodates several amenities and attractions, including sports facilities like jogging tracks, tennis courts and football fields. In addition, it also has a skate park, playgrounds for children, and a small lake where you can rent paddle boats.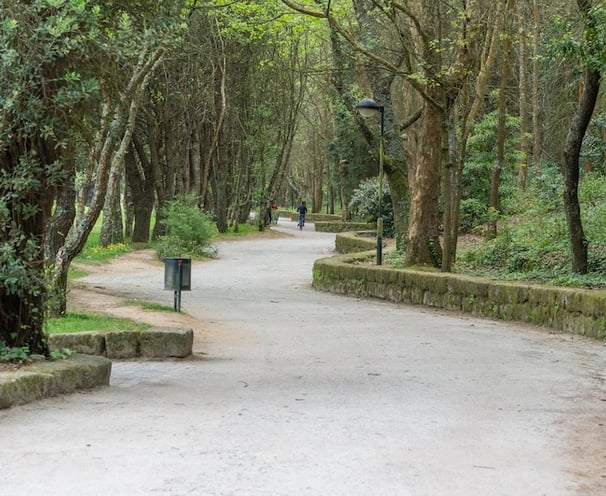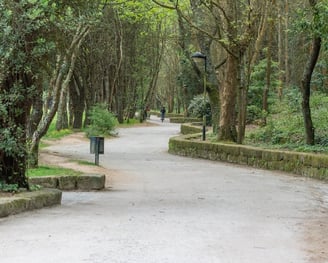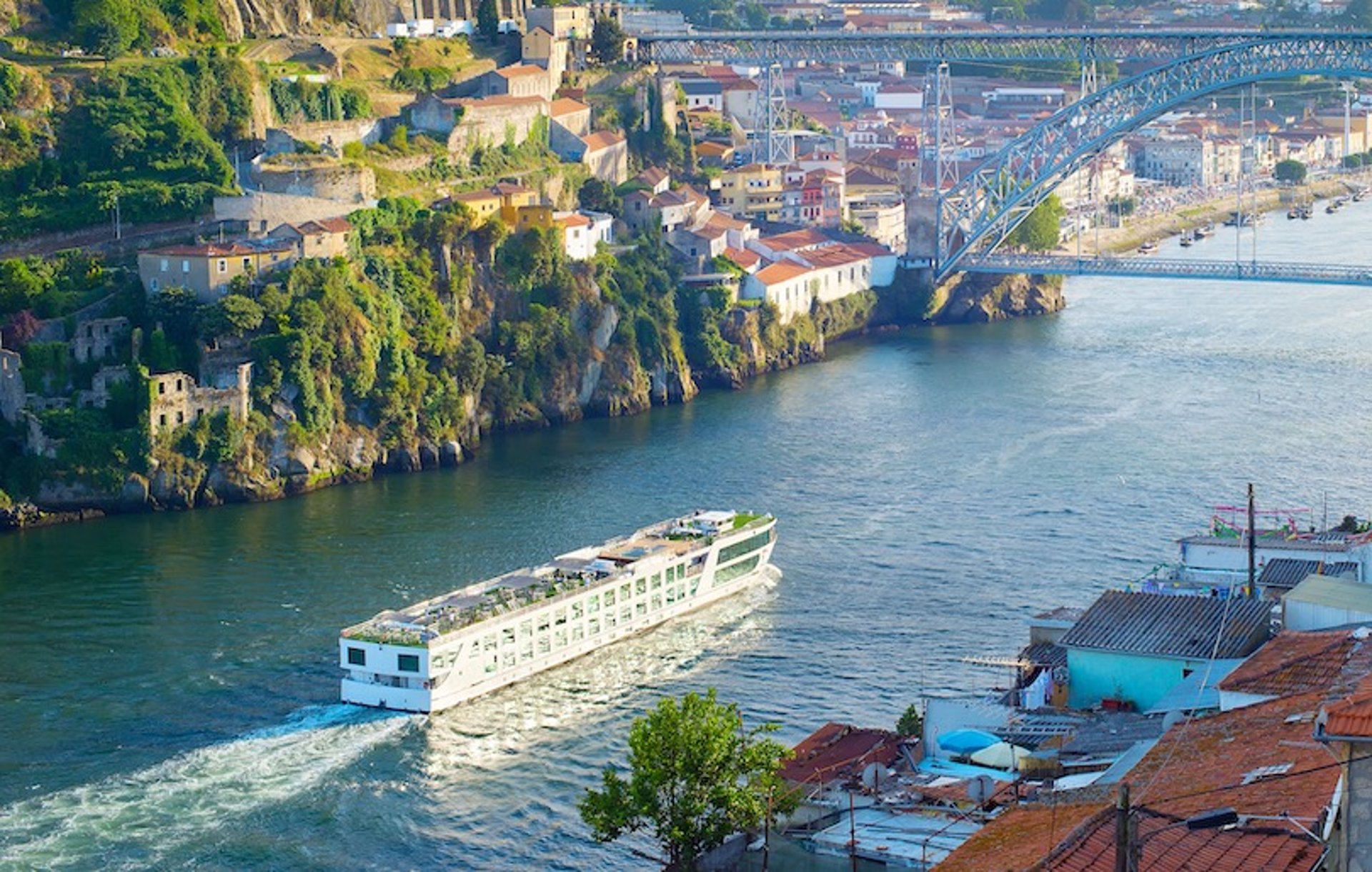 Cruise Down the Douro River
Taking a cruise down the Douro River is an unforgettable experience that showcases the region's natural beauty, stunning landscapes, and rich cultural heritage.
Gliding along the river, you'll be treated to breathtaking views of terraced vineyards, charming villages, and ancient castles atop hillsides.
Many cruises even offer the opportunity to visit traditional wine estates, where you can sample the famous port wine and learn about the centuries-old winemaking traditions of the region.
Whether you choose a short river cruise or a multi-day voyage, a journey down the Douro River provides a unique perspective on Porto and its surroundings. It offers a serene escape from sightseeing, allowing you to unwind, soak in the breathtaking landscapes and enjoy the experience of a scenic and romantic river journey.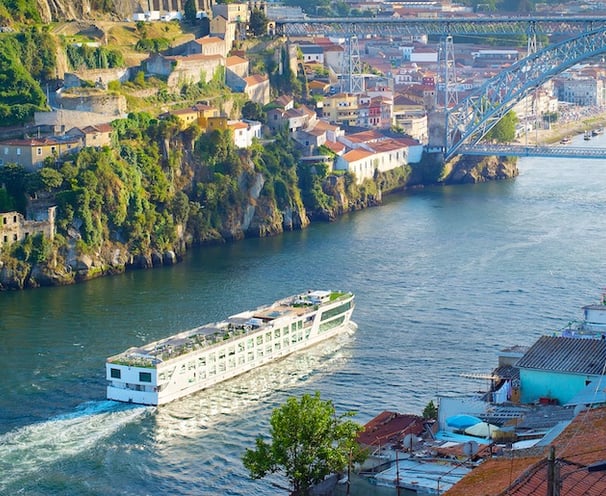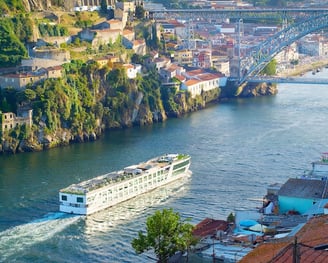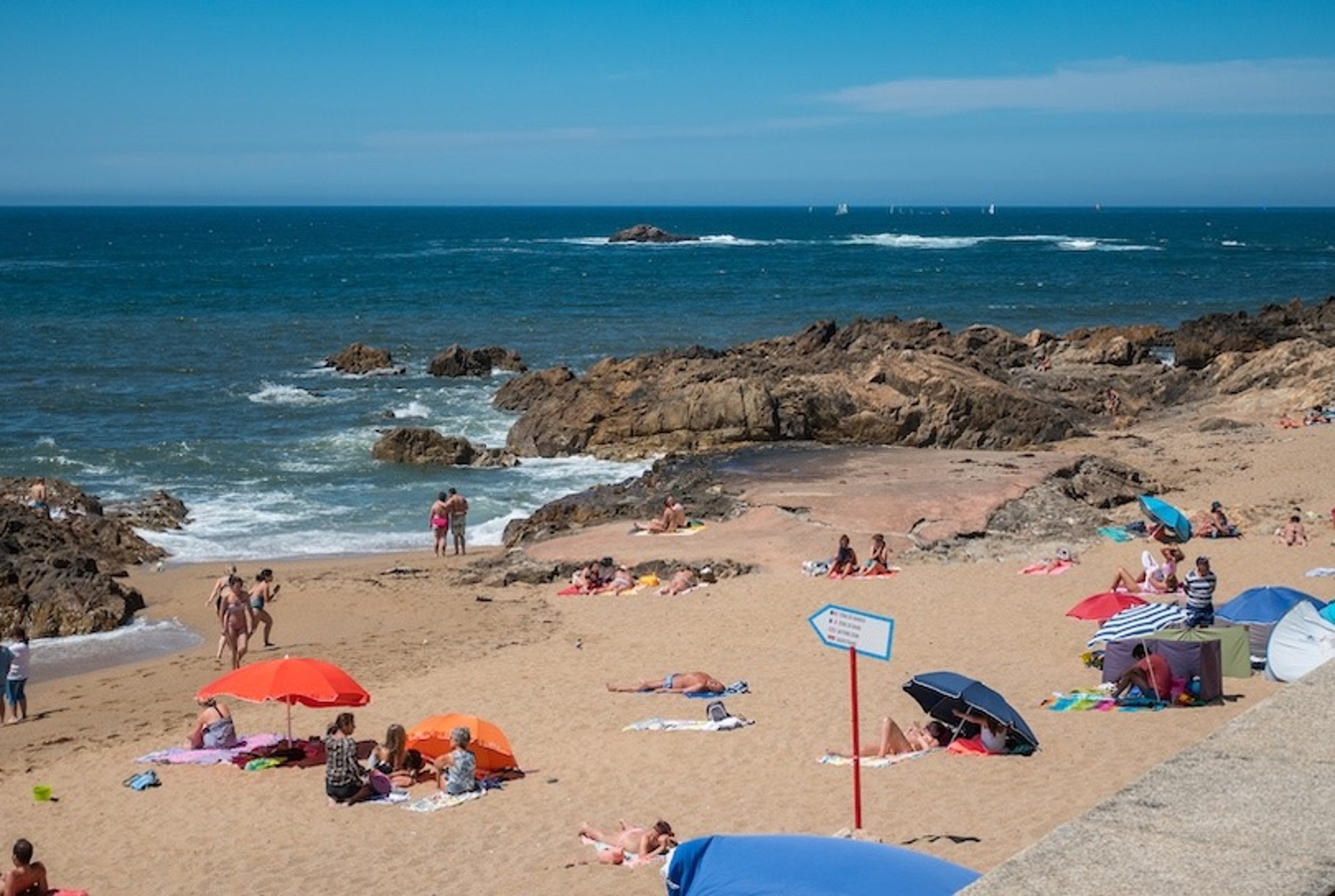 Go to the beach at Foz do Douro
Foz do Douro is a perfect place to unwind, sunbathe and enjoy the refreshing waters of the Atlantic Ocean.
Located at the mouth of the Douro River, the beach is famous for its broad sandy shoreline. It showcases spectacular views of the ocean, the river, and the iconic Arrábida Bridge in the distance.
Alongside the beach is a promenade with beachfront cafes, restaurants, and bars where you can indulge in delicious seafood dishes or sip refreshing drinks while enjoying the cool sea breeze. As the sun sets, the promenade becomes more lively, making it a romantic spot for an evening stroll.
Foz do Douro is also renowned for surfing, and bodyboarding if you're feeling adventurous. The consistent waves and challenging breaks attract surfers of all levels.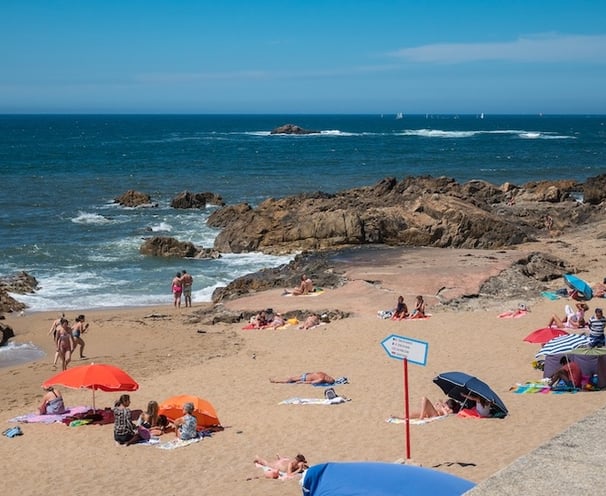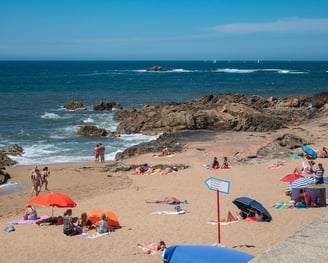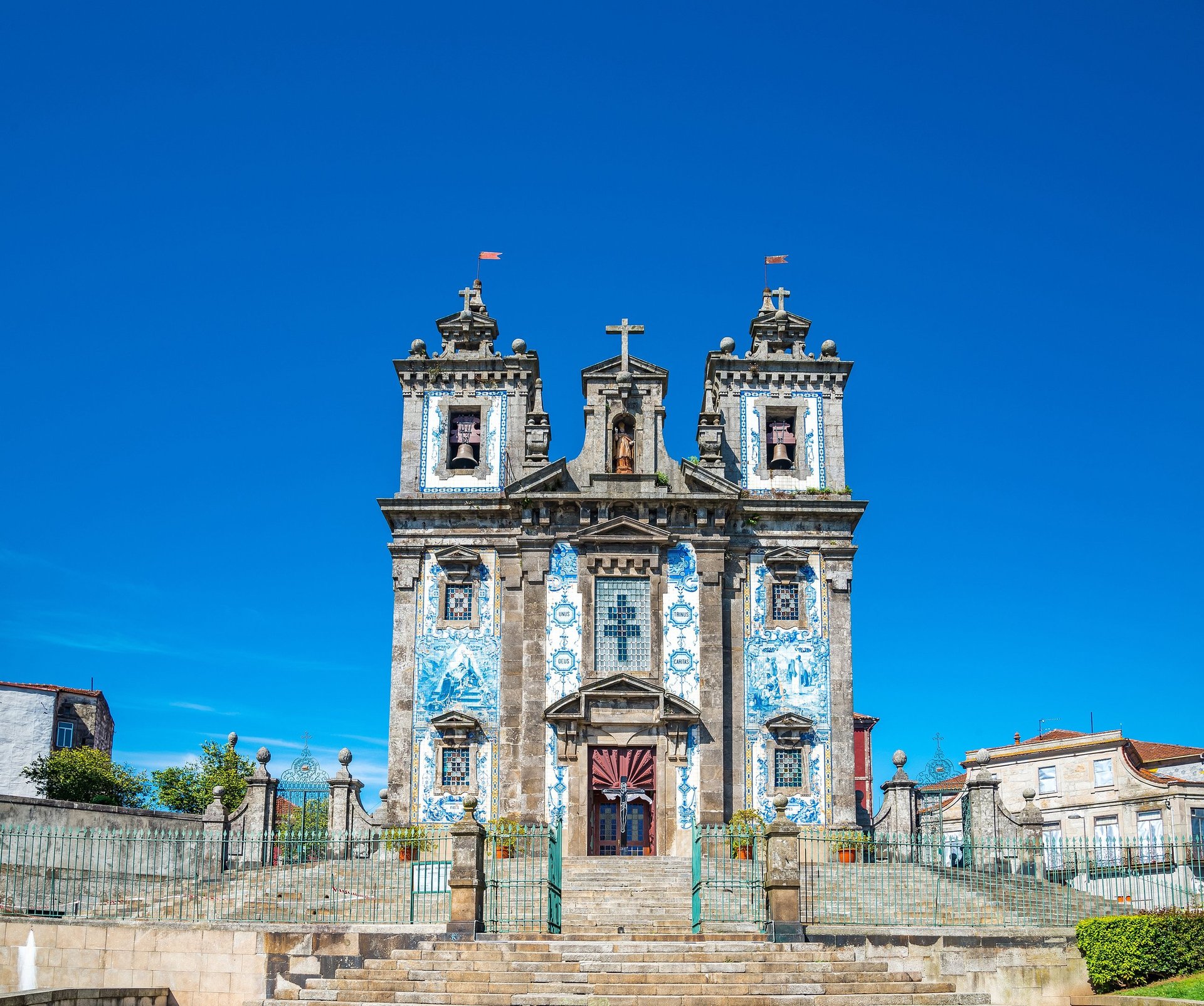 Nestled near the city's center, the Church of Santa Clara is an architectural and historical treasure worth visiting.
This stunning church, also known as Igreja de Santa Clara, features exquisite Baroque and Rococo elements that will captivate any visitor's attention.
Originally built during the 15th century, the church underwent various renovations over the centuries, contributing to its grandeur. Its façade is adorned with intricate stonework and decorative details, while the interior boasts ornate altarpieces, gilded woodwork, and stunning frescoes that depict religious scenes.
One of the most remarkable features of the church is the tomb of Queen Saint Elizabeth, a revered figure in Portuguese history. The church also features stunning stained-glass windows that help create a serene atmosphere illuminated by the soft light that filters through it.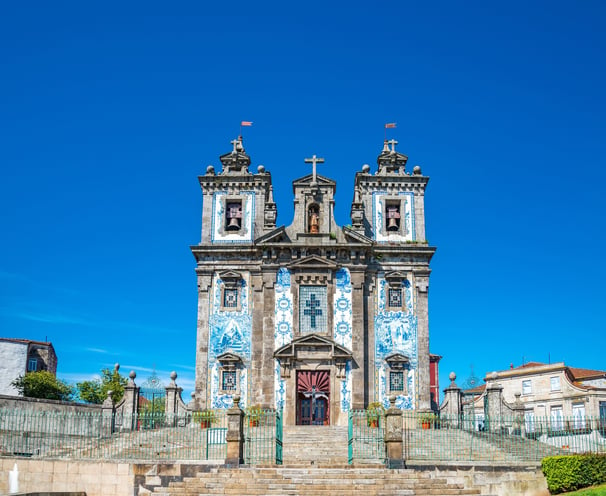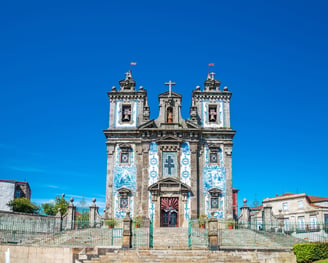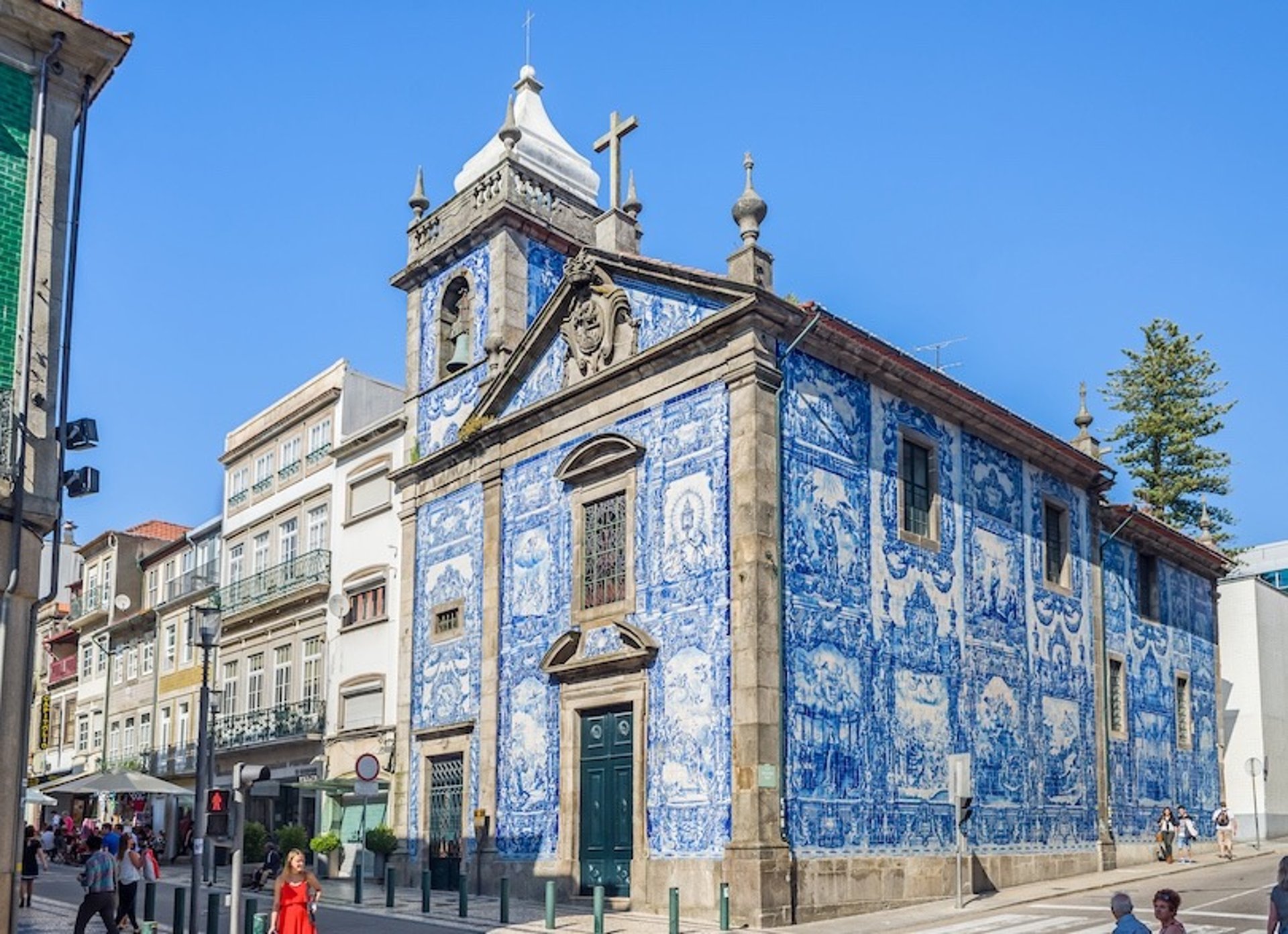 The Capela das Almas is a beautiful architectural wonder renowned for its exquisite facade adorned with intricate azulejo tiles.
A charming small chapel, its exterior is covered in blue and white tiles that depict the lives of various saints and religious figures. The tilework, crafted in the early 20th century, is a masterpiece of Portuguese artistry and adds a unique charm to the chapel.
Upon entering the chapel, you will discover a peaceful, intimate space adorned with religious iconography and gilded woodwork. The serene atmosphere is conducive to taking a moment to reflect.
Holding a special place in the hearts of local residents, the Capela das Almas symbolizes devotion and faith. It is particularly revered during the annual festival of São João when the chapel becomes a focal point for religious celebrations and processions.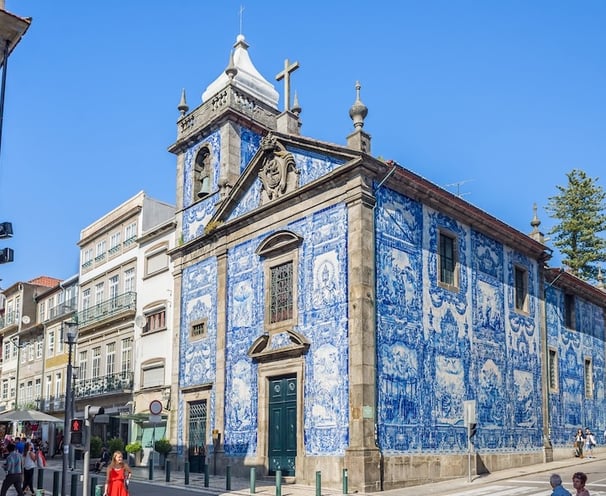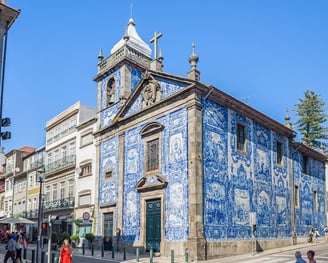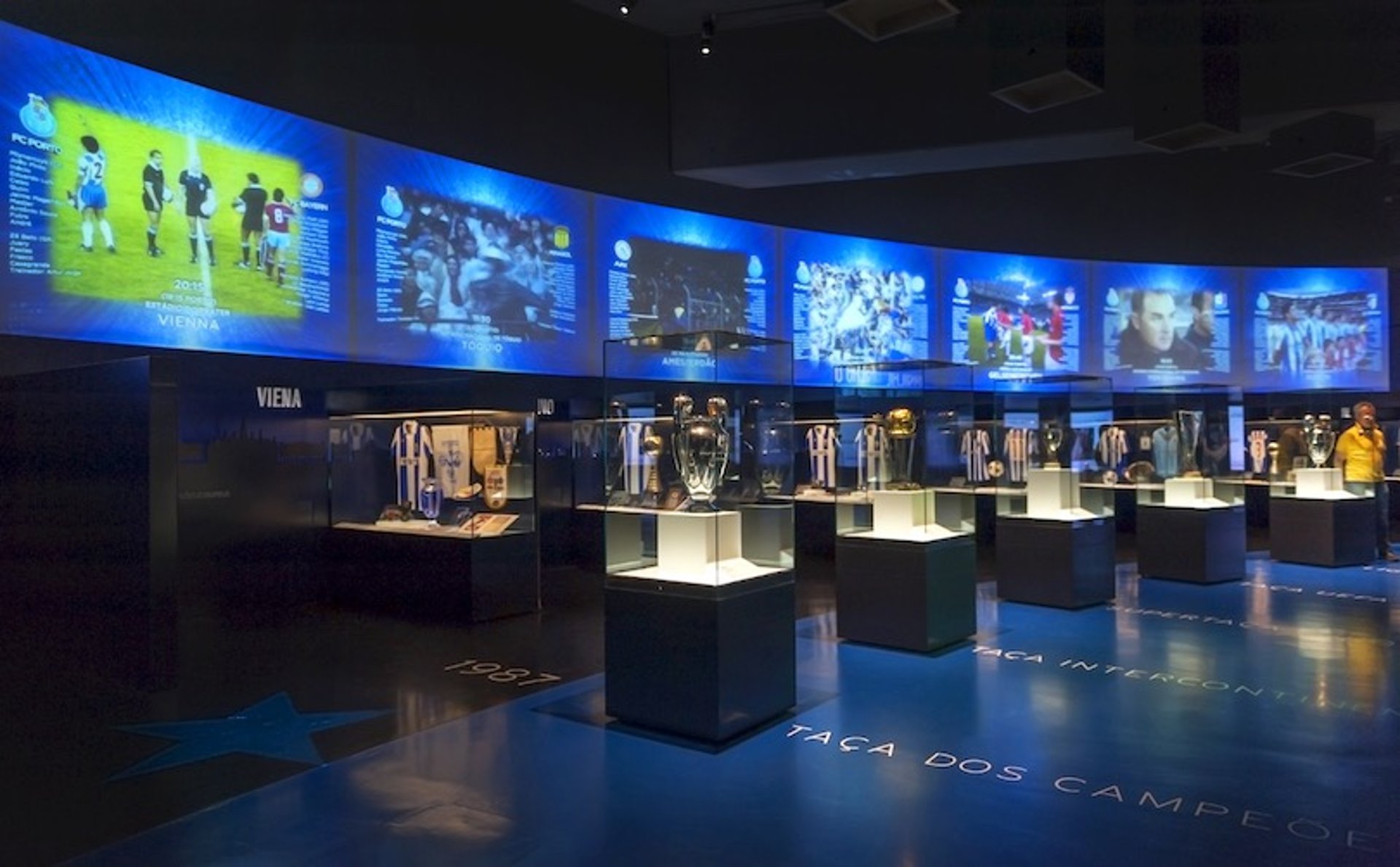 If you love soccer, one of the best things to do in Porto is to visit the FC Porto Museum.
One of Portugal's most successful football clubs, the museum resides within the iconic Estádio do Dragão and showcases the history and achievements of the club.
Inside the museum, you'll find a collection of memorabilia, trophies, and interactive exhibits that showcase the club's rich heritage. You can also learn about the club's founding, legendary players, and triumphs on the national and international stage.
The museum also provides immersive experiences that allow visitors to relive iconic moments through multimedia presentations, audiovisual displays, and interactive games. They include stepping into a player's boots, testing your football skills, and even taking a virtual tour of the stadium, including the changing rooms.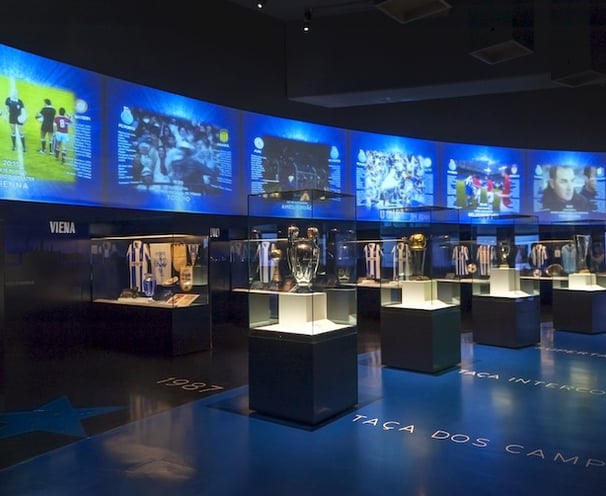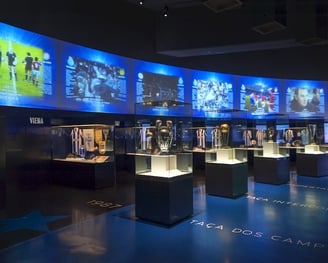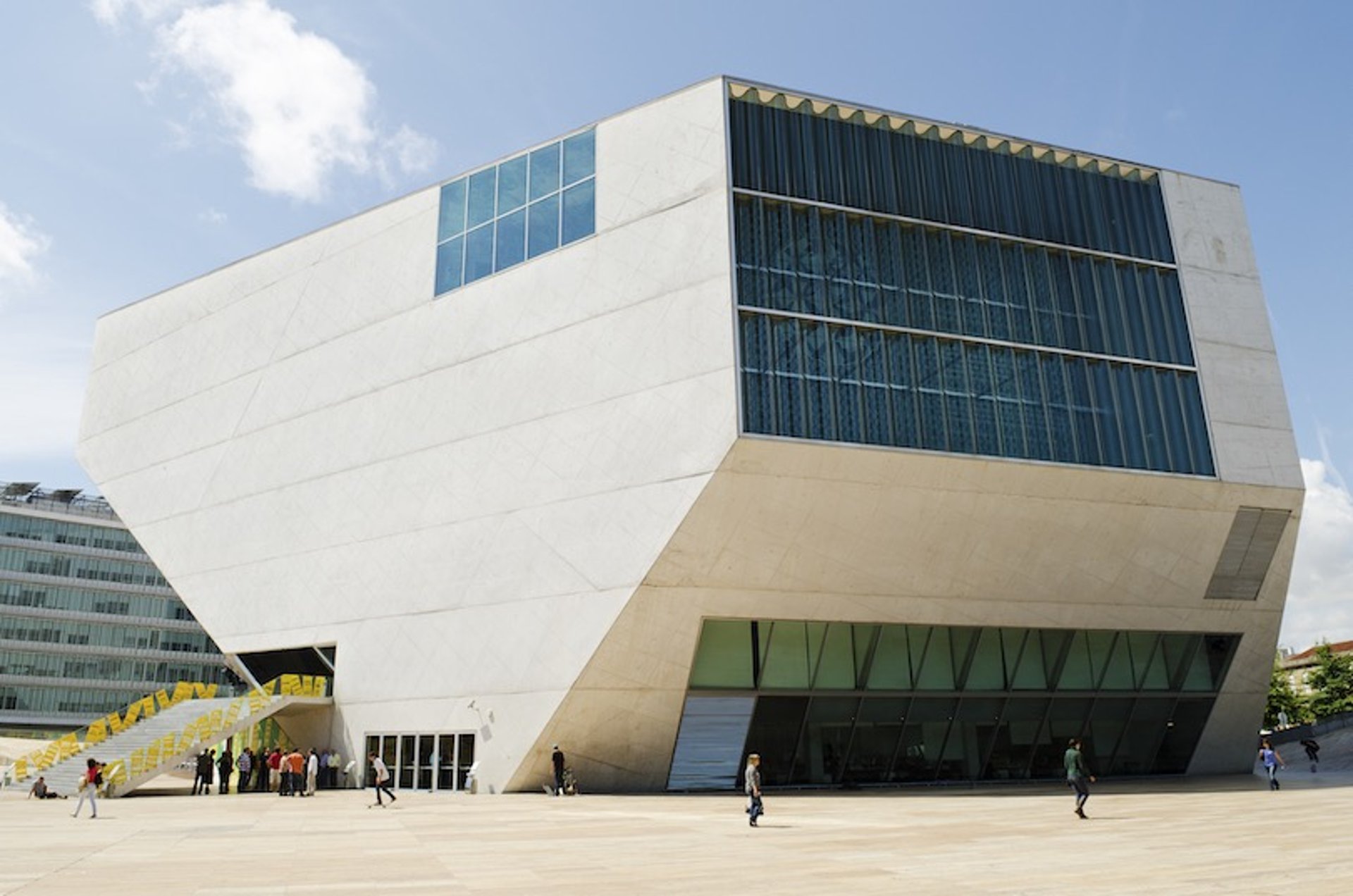 When it comes to contemporary architecture, the Casa da Musica is a standout attraction. Designed by Dutch architect Rem Koolhaas, the new home for the National Orchestra of Porto opened in 2005 to great acclaim.
With its innovative design inside and out, the structure has already been adopted by the city as an iconic landmark. Concerts are held in the hall nearly every night of the year, with shows ranging from rock bands and solo artists to full symphony orchestras.
Guided tours of the facility are offered daily, and special packages include backstage passes and free samples of port wine.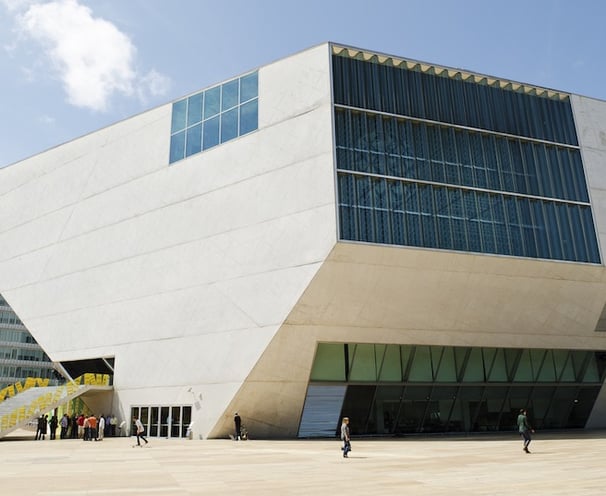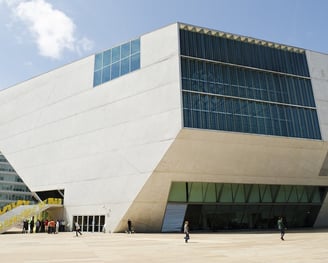 The Igreja do Carmo is a stunning church with great historical and architectural value.
Dating back to the late 18th century, it boasts an impressive Baroque style that reflects the city's rich cultural heritage of the time.
The church's impressive façade is intricately adorned with carvings and decorative elements that showcase the skilled craftsmanship of the time.
Visitors can admire stunning altarpieces, gilded woodwork, and beautifully painted ceilings that will take your breath away. Notably, its tiled façade, known as the 'Wall of Souls', depicts scenes from the lives of various saints and religious figures.
Adjacent to the church is the Carmo Churchyard. Tourists there can find a collection of ancient tombstones and elaborate mausoleums – a peaceful space offering a link to Porto's past.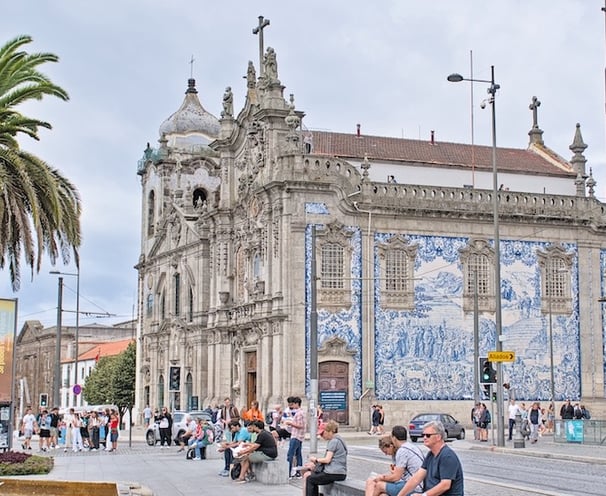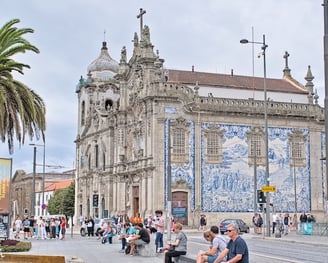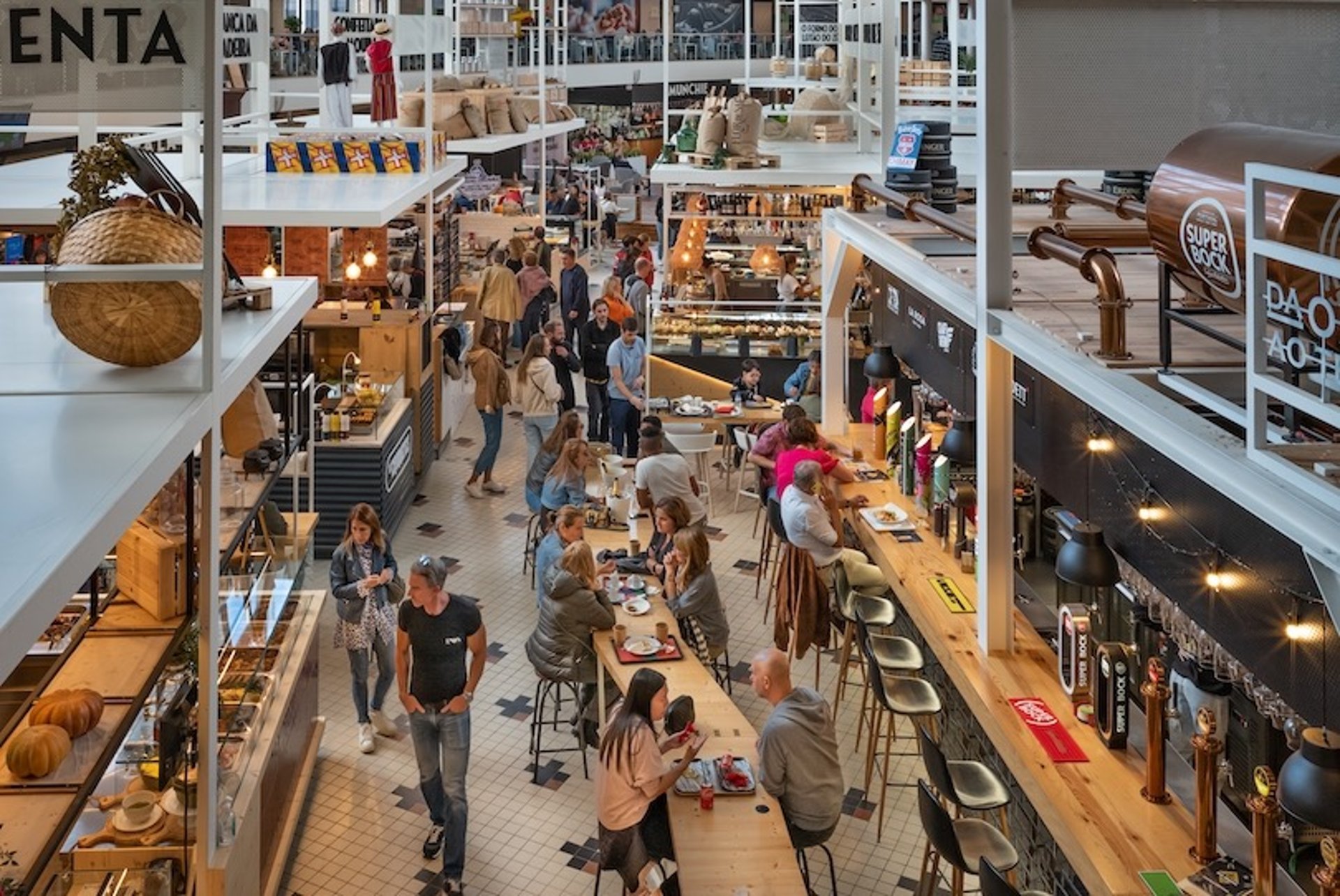 Mercado Bom Sucesso is a lively marketplace in the Boavista district of Porto.
It has become a popular destination for food lovers who can enjoy a delightful culinary and cultural experience. The market showcases fresh produce, gourmet ingredients, and traditional Portuguese delicacies. Along with local fruits and vegetables, artisanal cheeses, seafood, and pastries, you can also find international cuisines, including sushi, pizza, and vegan options.
Aside from the tempting food offerings, the Mercado Bom Sucesso is a lively space where you can mingle with locals and soak up the vibrant atmosphere. It regularly hosts cultural events, live music performances and art exhibitions, making it a dynamic and multifaceted destination with a lively and engaging atmosphere.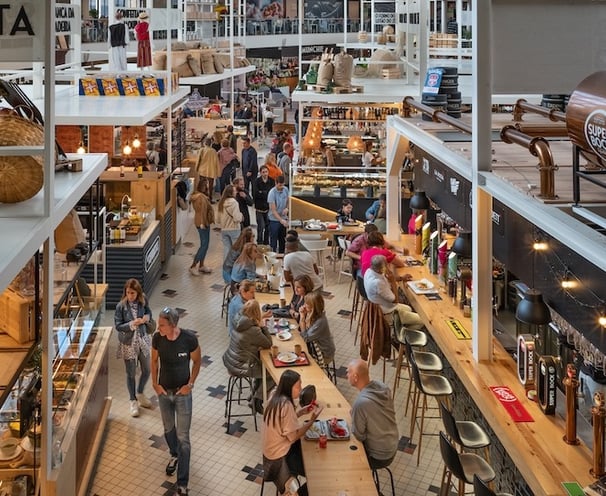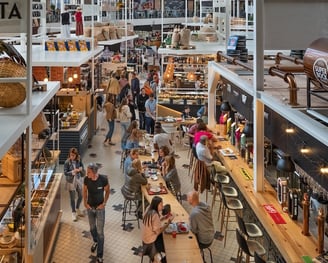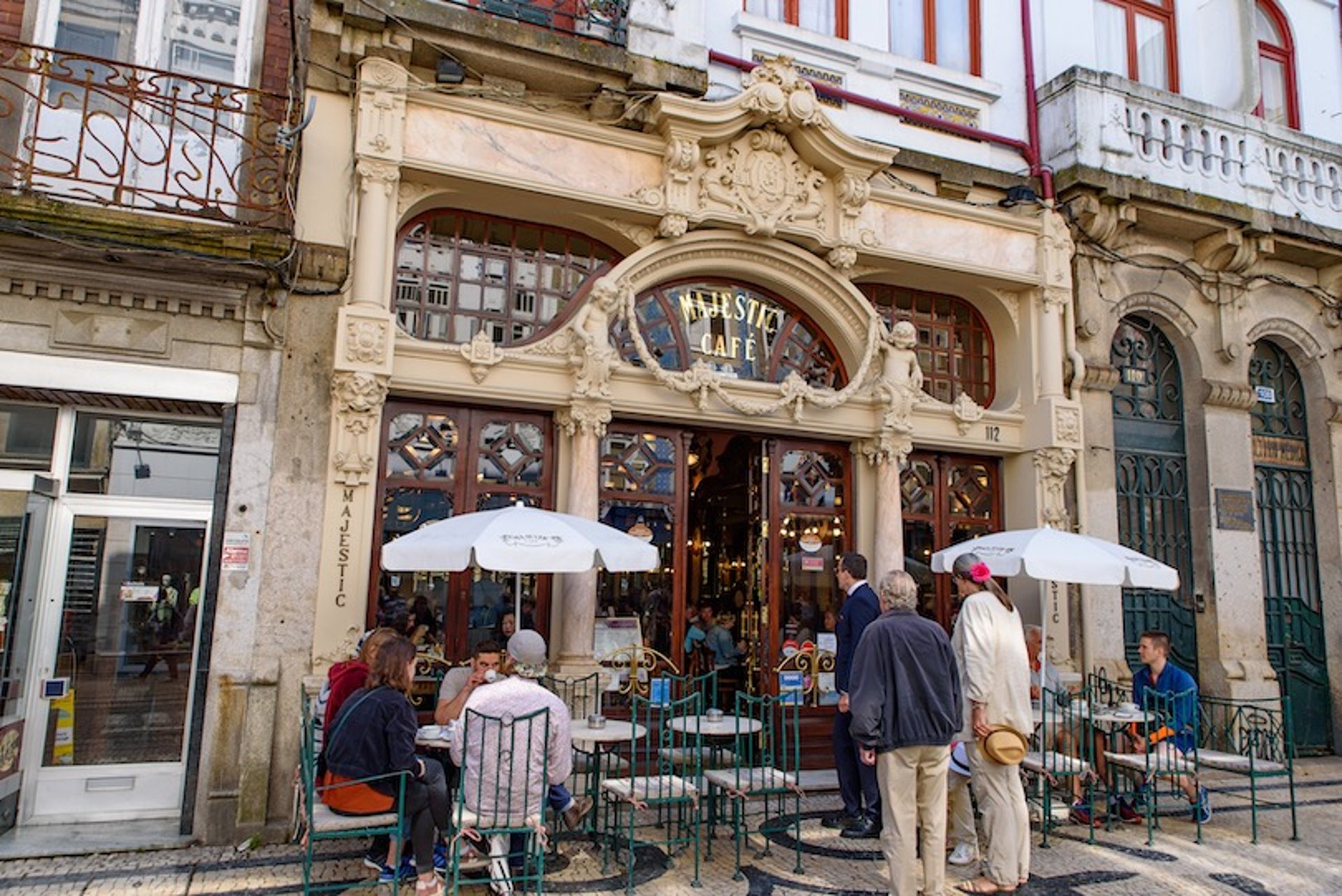 The Café Majestic is a historical gem that takes visitors back to the elegant Belle Époque era.
Its Art Nouveau décor, complete with intricate woodwork, chandeliers, and plush seating, creates a gorgeous setting that transports you back in time.
Since opening in 1921, the café has been a popular meeting place for intellectuals, artists, and bohemians drawn to its sophisticated ambiance and ornate interiors.
It is also an excellent place to eat and presents a delightful menu featuring delectable pastries, sumptuous desserts, and specialty coffees. If you have a sweet tooth, you will be spoiled for choice with their selection. But we recommend indulging in their signature 'Majestic cake', which well and truly lives up to its name.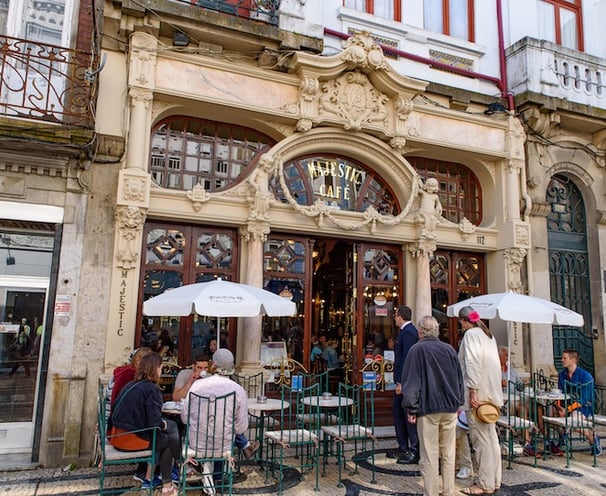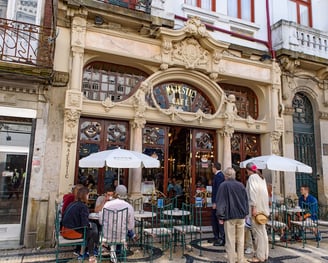 If you enjoy contemporary art, The Serralves Museum will not disappoint.
The museum resides within the beautiful grounds of Serralves Park and offers a captivating mix of art, architectural beauty, and nature.
Its modern and sleek building design is a work of art in itself, as it blends seamlessly with the surrounding landscape. Inside, visitors can explore a diverse collection of contemporary art featuring works by renowned national and international artists.
From painting and sculpture to installation and multimedia art, the exhibits showcase a range of artistic expressions and thought-provoking creations.
In addition, the Serralves Museum hosts temporary exhibitions, educational programs, and regular cultural events. Therefore, it is also a vibrant center for artistic and intellectual exchange in the city.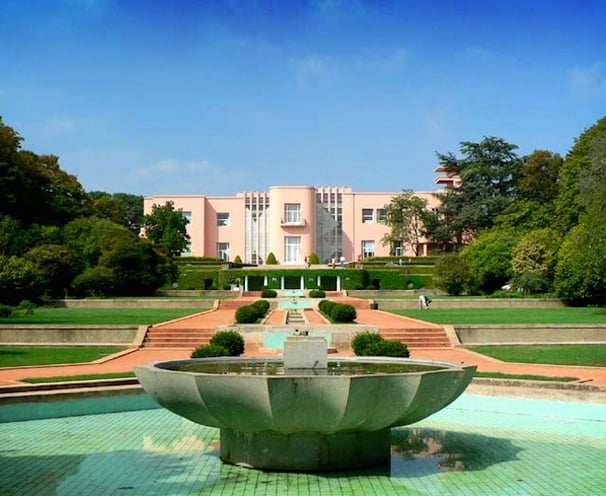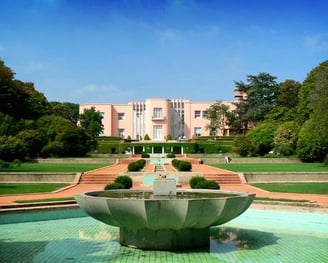 Wine Cellars in Vila Nova de Gaia
While technically its own city, Vila Nova de Gaia is situated just across the Douro from Porto and is woven into the city's fabric both by a series of bridges as well as its shared history of port-wine making.
The most popular tourist attraction in Gaia are the Port Wine Cellars, warehouses where the famous Port wine is stored. The Cellars are placed in Ribeira de Gaia, an area of the city located in the bank of River Douro opposite Porto.
Ribeira de Gaia has also some excellent restaurants, particularly in Cais de Gaia. Even if you are not in visiting the cellars, you should visit Ribeira the Gaia in order to get some amazing views of Porto.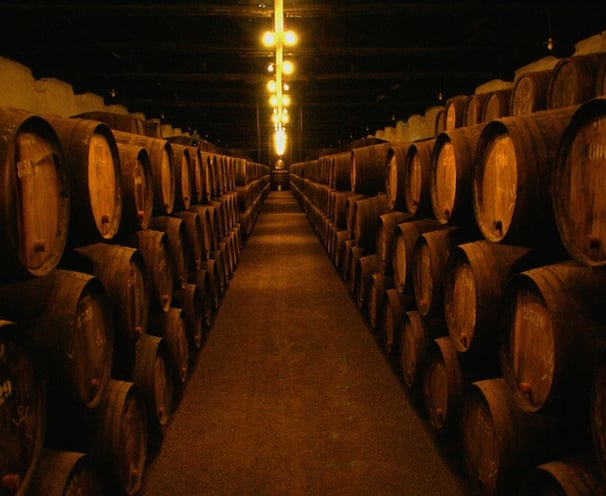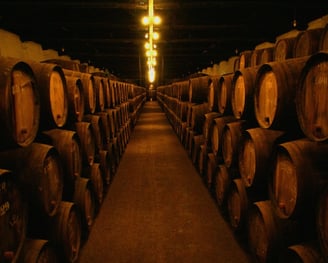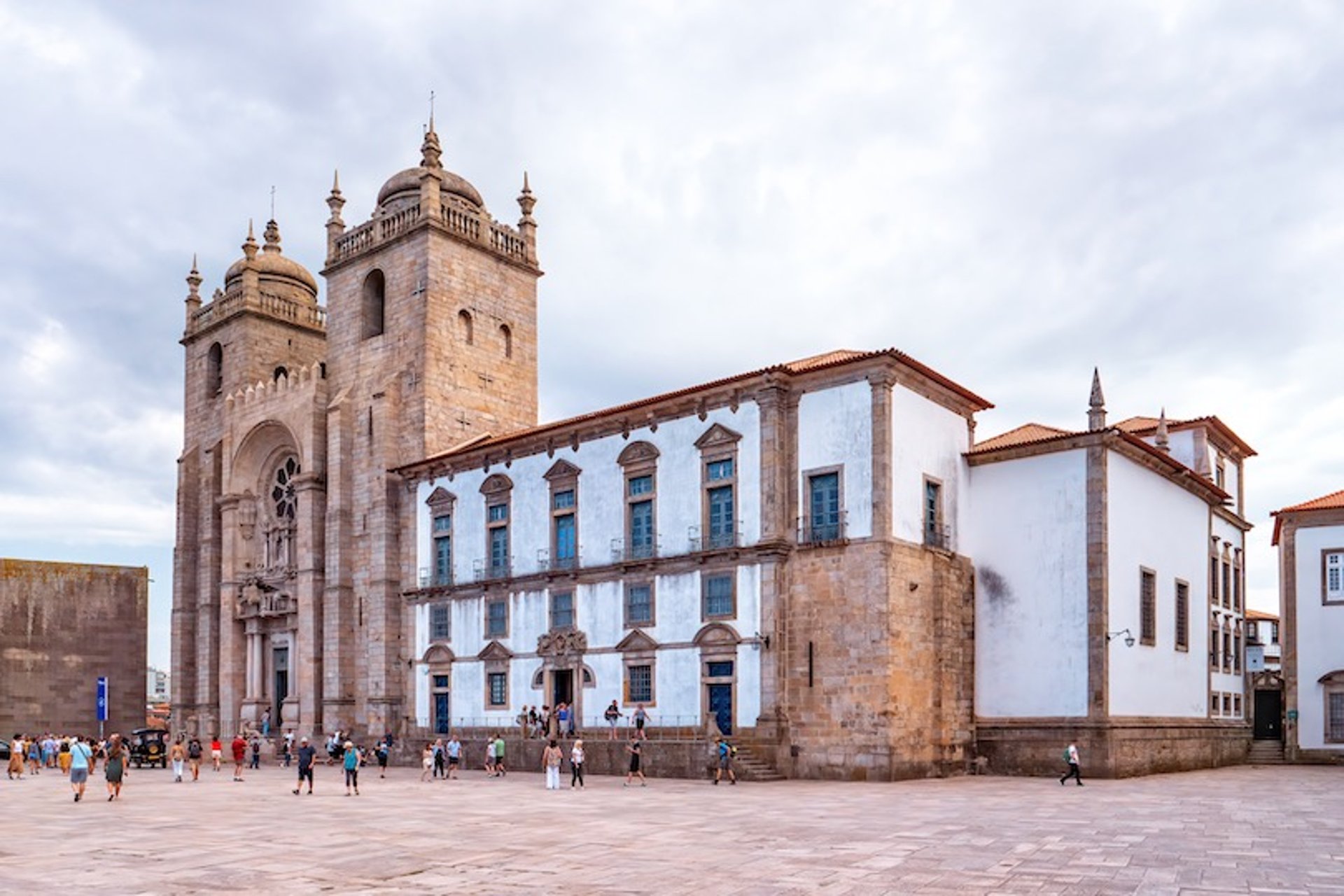 The parents of Portugal's first king, Dom Afonso Henriques, are credited with the construction of the 12th-century Sé do Porto, but the cathedral has actually been rebuilt twice over the centuries.
Offering a history of changing architectural styles, the reconstructions are now part of this famous structure's appeal. From its Gothic rose window and cloister to the baroque chapel with its ornate silver altarpiece, the cathedral is a must-see attraction for anyone interested in history, art and architecture.
A staircase ornamented with painted ceramic tile work leads to a second level where narrow windows offer impressive views.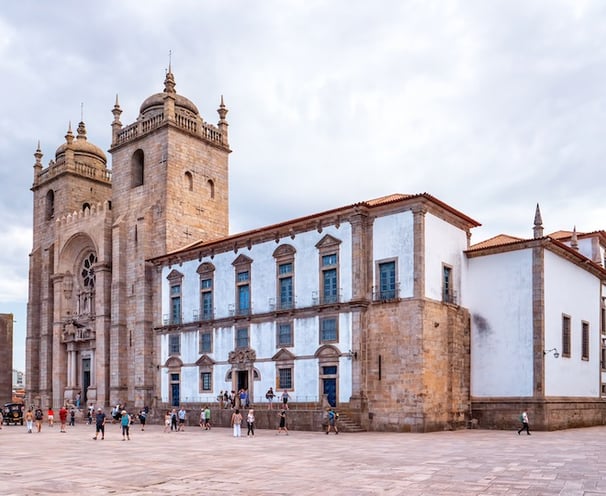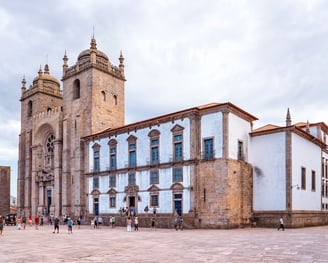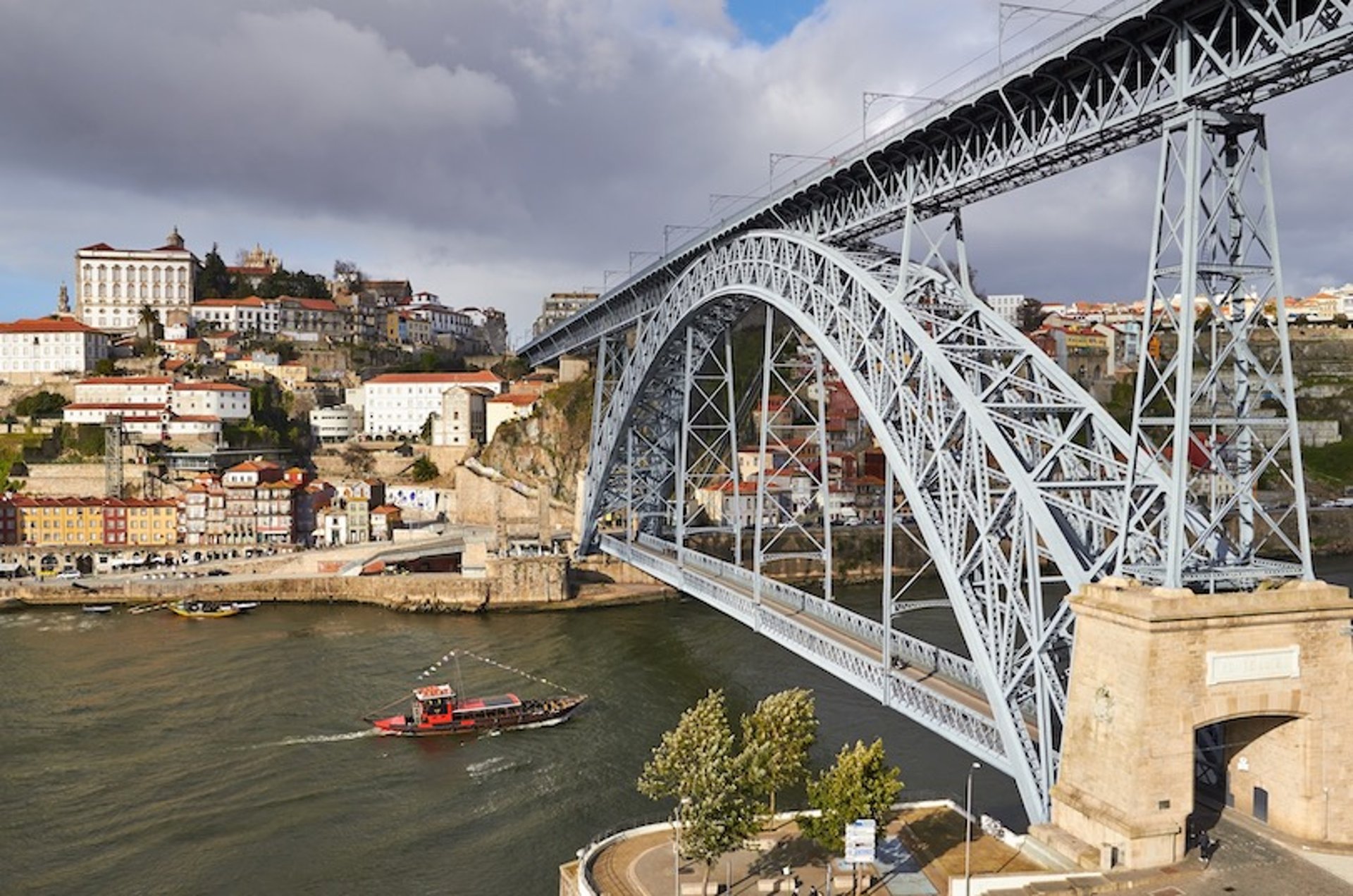 The Ponte de Dom Luis I is the most famous of the several bridges that span the Duoro River. Built in 1886, it was designed by Téophile Seyrig, an engineer who worked with Gustave Eiffel.
The massive iron bridge has both an upper and lower deck, both of which carried road traffic until 2003 when the top span was converted to accommodate a light rail system. A pedestrian walkway on the upper deck offers spectacular views as well as a direct walking route to the port wine lodges across the river in Vila Nova de Gaia.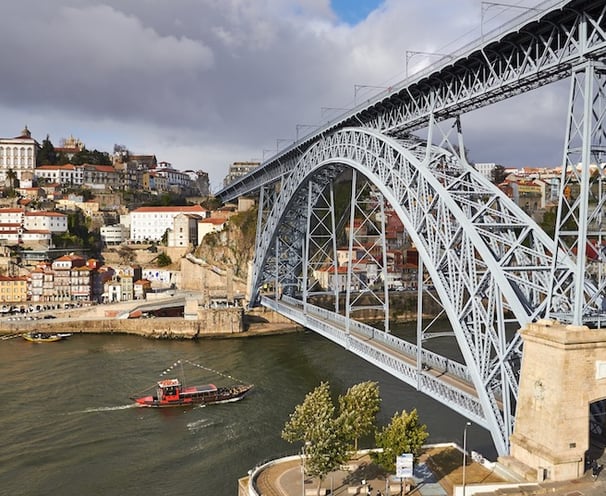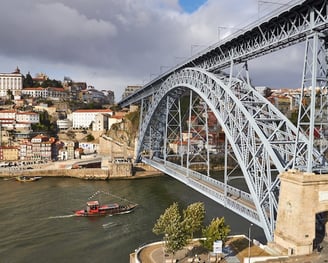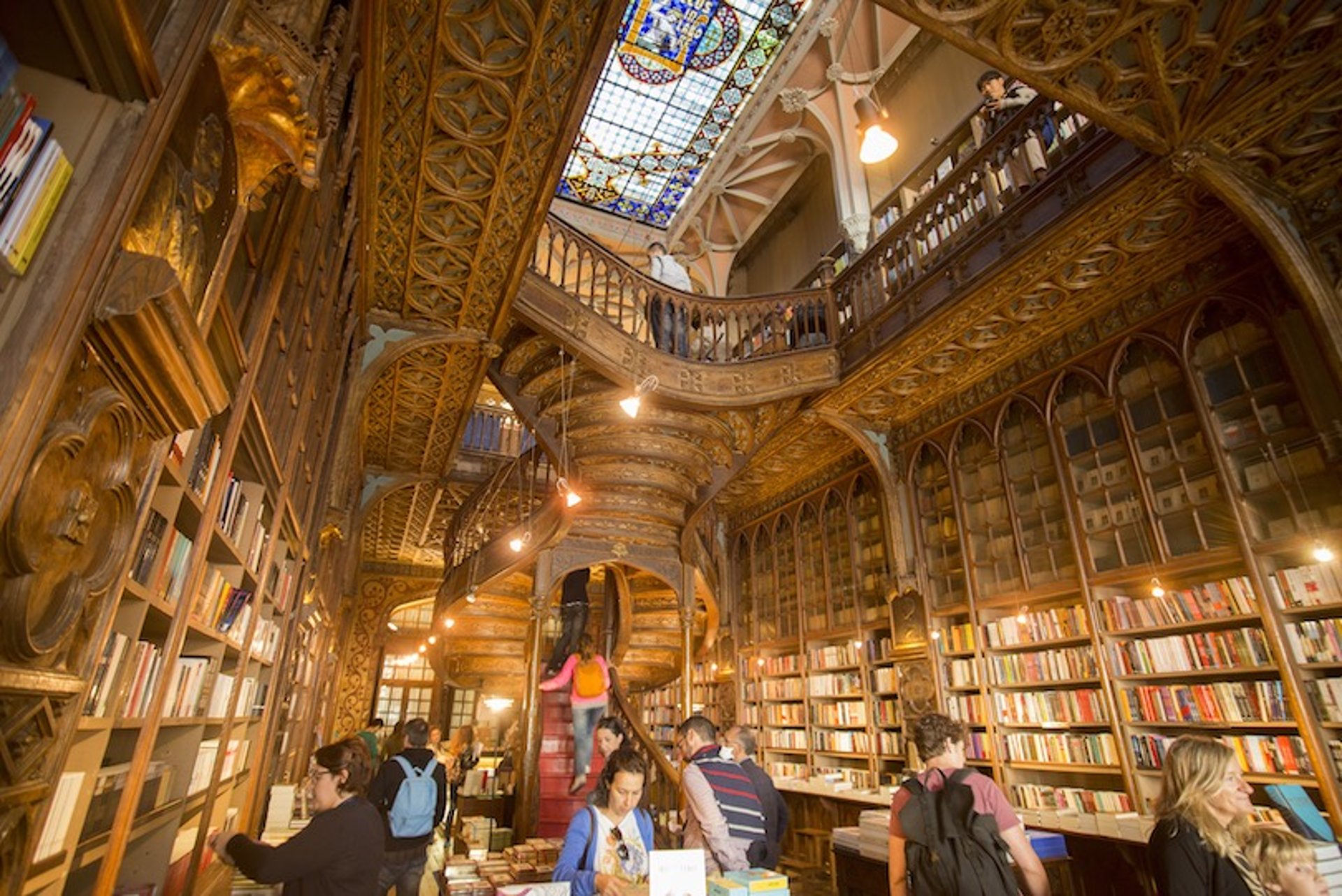 Bibliophiles will be in their element at Livraria Lello.
A haven for book lovers, this store was founded in 1906 as a tribute to the beauty of literature. It features grandiose bookshelves, ornate carvings, and a magnificent stained-glass ceiling that casts a warm glow over the space. You'll want to spend hours here!
Livraria Lello has always been associated with literary figures and intellectual discussions. Its legacy continues through its vast collection of books, ranging from classic literature to contemporary works. Visitors can explore the aisles and discover hidden gems and literary treasures that will transport them to another world.
The charm of this bookstore has even inspired writers like J.K. Rowling, who reportedly found inspiration for the Harry Potter series within its walls.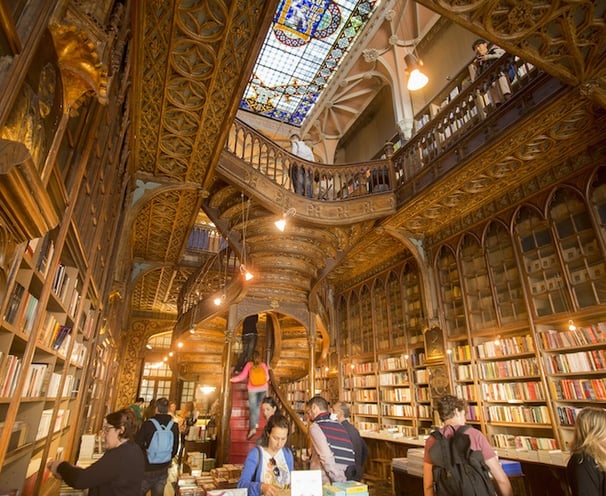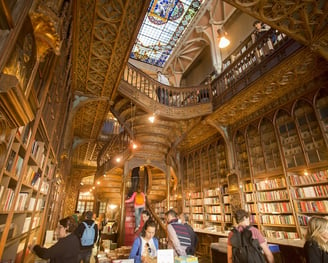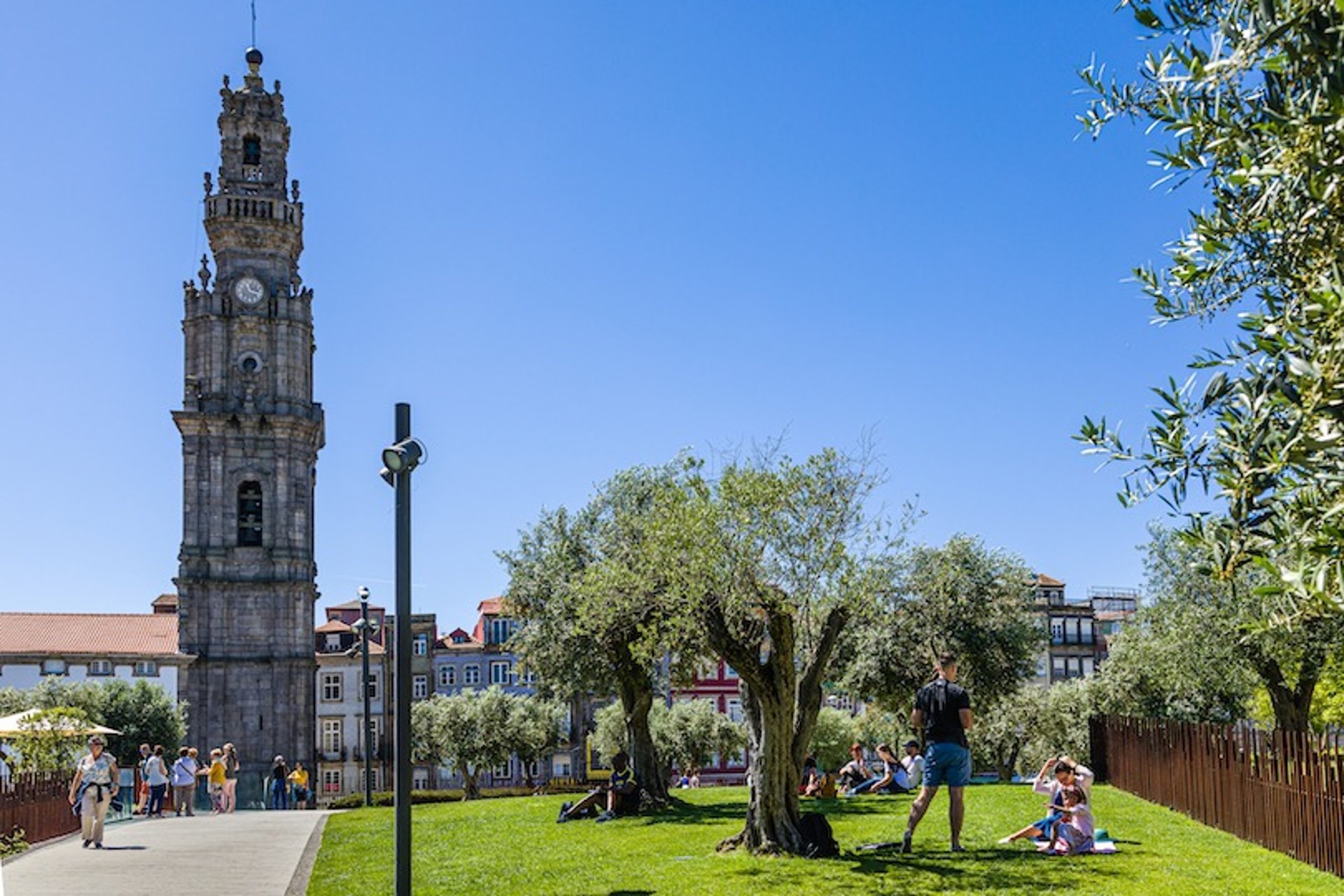 The Clérigos Tower is one of the most famous landmarks in Porto, if not Portugal.
Designed in the 18th century by Italian architect Nicolau Nasoni, the tower is part of the Clérigos Church and stands at 76 meters. It is a must-visit destination for those who enjoy exceptional panoramic views.
The tower features intricate Baroque details and a beautiful spiral staircase that leads to the top, making it a masterpiece of architecture. Visitors can climb its 240 steps, where they'll take in breathtaking views of Porto's historical center, the Douro River and the surrounding areas on reaching the top.
In addition to the tower, a small museum provides visitors with insights into the its construction and historical significance. It is worth popping in to find out more about the magnificent structure.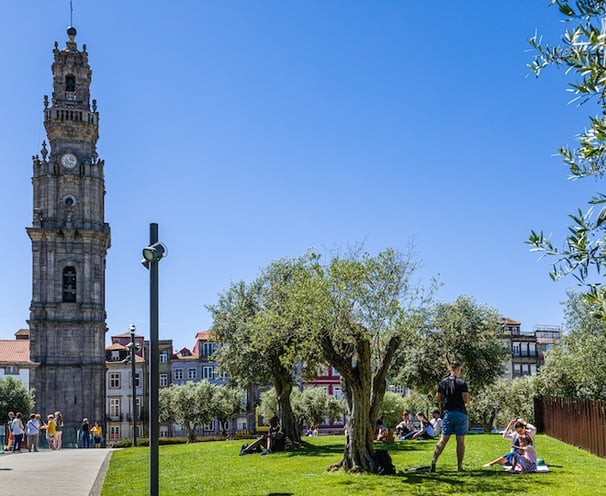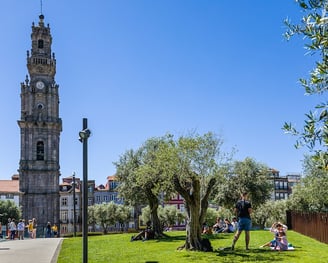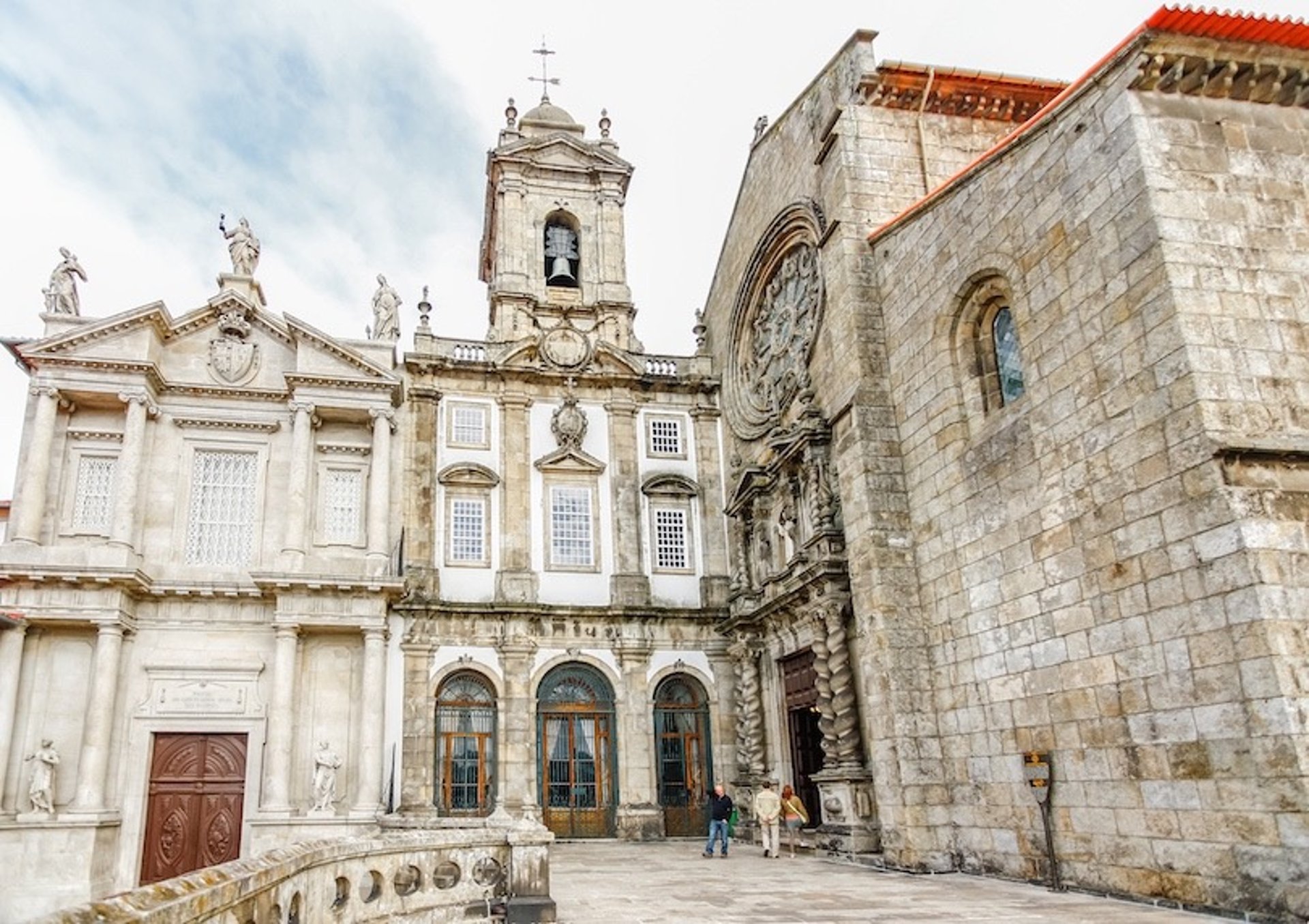 The 14th-century Igreja de Sao Francisco is the most prominent example of Gothic architecture in Porto.
Originally part of the St. Francis Convent built in the 13th century, the church is the only structure that survived a fire in 1842. A steep climb from the riverside leads visitors to the massive stone façade, which is ornamented by a large rosette window.
The interior of the church was given a baroque makeover in the 18th century when almost all of the aisles, pillars and chapels were covered with lavishly ornamented gilded carvings featuring cherubs, flowers and animals.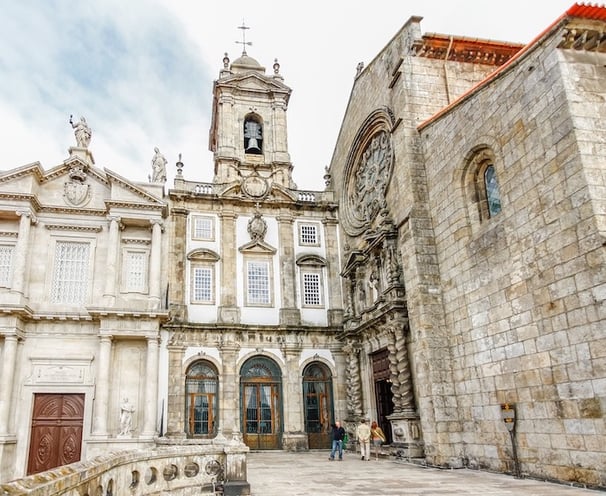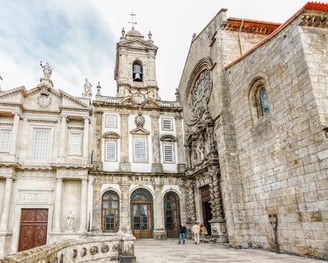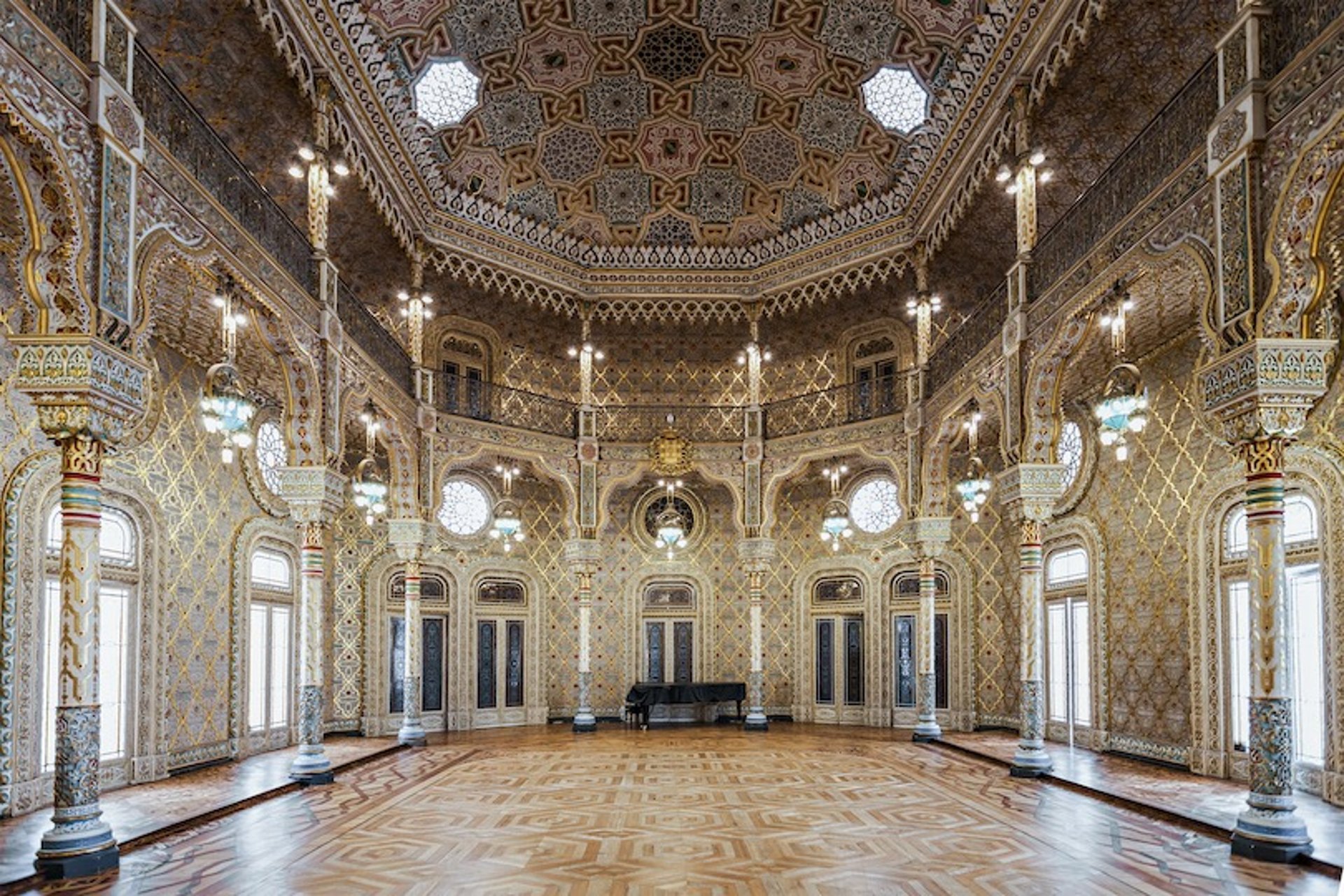 Located adjacent to the Sao Francisco Church, the Palácio da Bolsa is a massive Neoclassic structure constructed on the site of the former St. Francis Convent. Funded by the Porto's commercial association, the palace was built as a stock exchange and was designed to impress Europe's economic leaders.
Several architects worked on the building during its nearly 70-year construction period. Designed in a Moorish style by Gustavo Adolfo Gonçalves e Sousa, the Arab Room is a highlight for any tour of the palace. One of the most popular tourist attractions in Porto, the striking space is still used as a reception hall for visiting dignitaries today.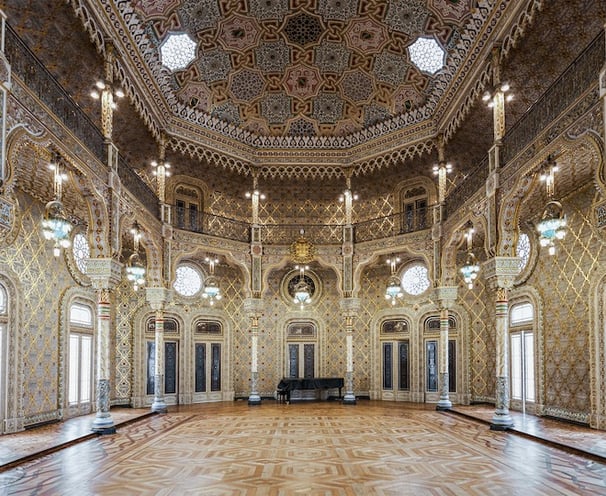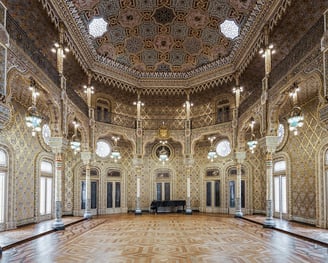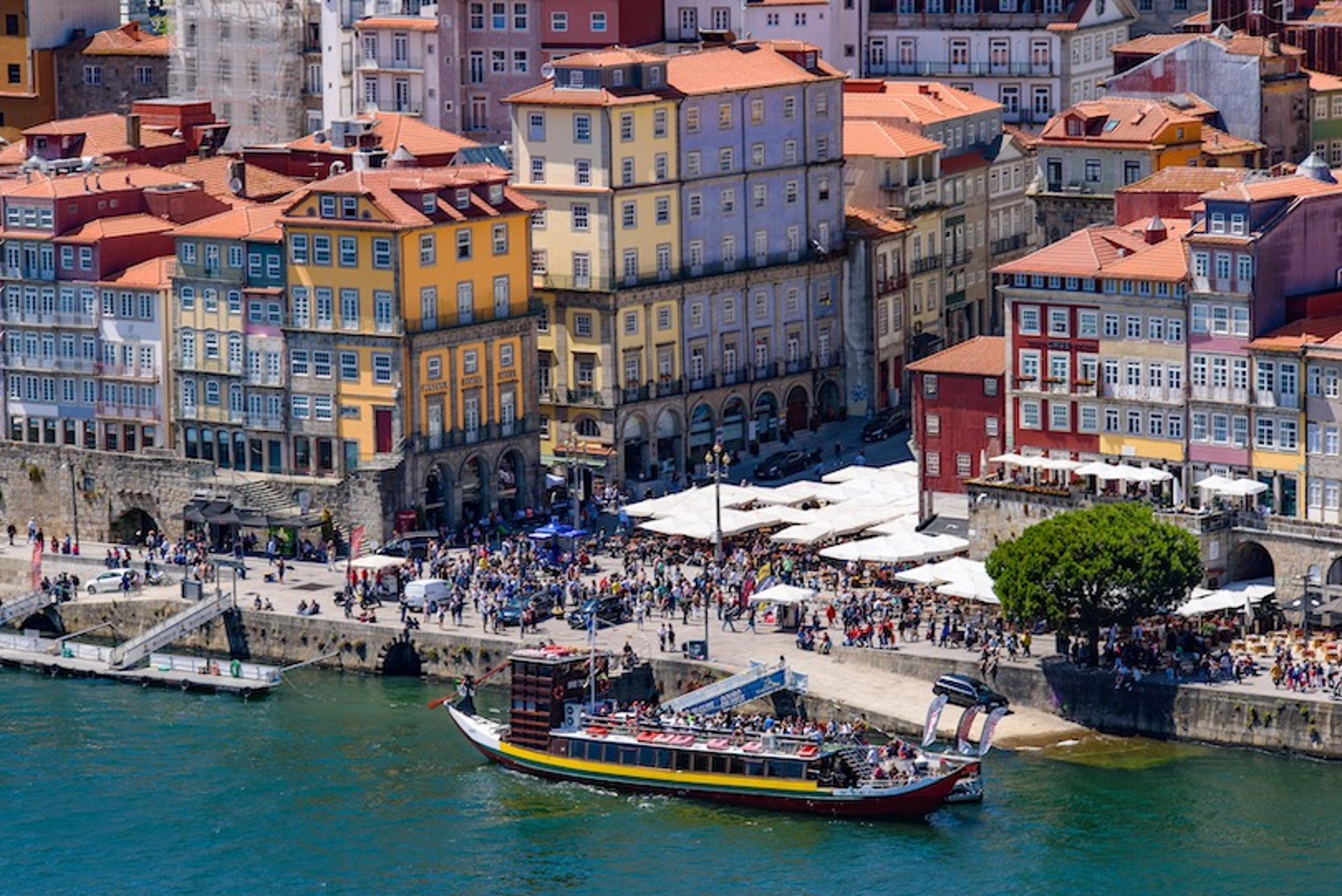 Many travelers to Porto begin their visit in the Ribeira, the medieval historic district located near the Duoro River.
At the Praça da Ribeira, the narrow cobblestone streets spill out onto a scenic plaza where locals and tourists relax in the sun and enjoy views of the estuary. With its many seafood restaurants and taverns, the Ribeira Pier is a popular gathering spot too.
It's also a departure point for cruises on the river and for boat rides to the port wine cellars in Vila Nova de Gaia. For those traveling by foot or car, the Cais da Ribeira offers easy access to Dom Luis Bridge as well.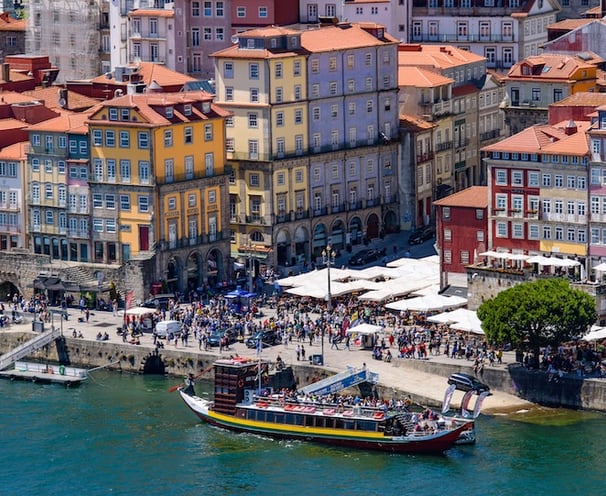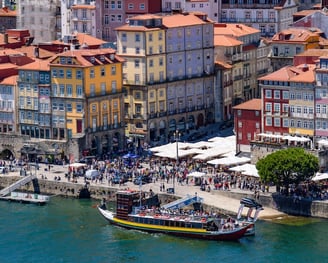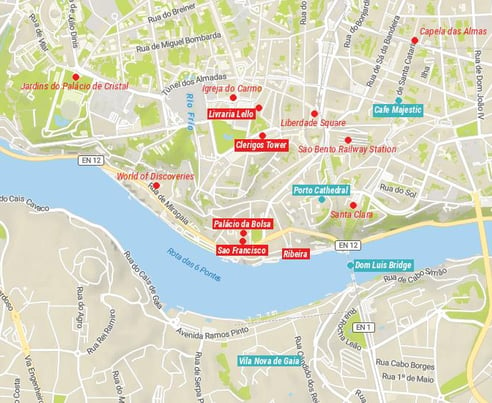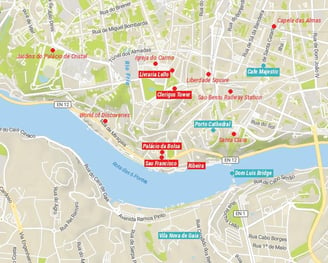 Map of Things to do in Porto